Gospel of Abraham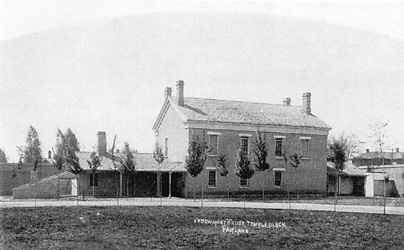 The Endowment House, c. 1888, in the northwest corner of Temple Square, Salt Lake City. Ordinances for the living, but not for the dead, were performed in this building until 1889 when it was torn down. Photographer: C. R. Savage.
An Endowment house is a building or place where certain temple ordinances may be administered, outside of the temple itself. Moses erected a tabernacle in the wilderness as a "temporary temple"; by analogy, so did the Prophet Joseph Smith. Before the Nauvoo Temple was completed, the large upper room of Joseph Smith's red-brick store building in Nauvoo, Illinois, was used to confer the first temple ordinances on a few leaders of the Church on May 4, 1842, and then on their wives. These ordinances, called endowments, consisted of a course of instruction and rites that included prayers, washings, anointings, and the making of covenants with the Lord Jesus Christ.
The Latter-day Saints occasionally used a mountaintop as their temporary temple, and President Brigham Young dedicated Ensign Peak, a hill just north of Salt Lake City, Utah, as a "natural temple." Though Brigham Young designated a temple site in Salt Lake Valley on July 28, 1847, just four days after his arrival, the temple took forty years to build. In the meantime, the upper floor of the Council House, Salt Lake City's first public building, served 2,222 members of the Church as their Endowment house between February 21, 1851, and May 5, 1855.
A more permanent Endowment house, designed by Truman O. Angell, Church architect, was soon built on the northwest corner of Temple Square. Brigham Young named it "The House of the Lord." It was dedicated on May 5, 1855, by Heber C. Kimball. The main structure was a two-story building 34 feet by 44 feet, with small one-story extensions on both ends. The first floor had a room for washing and anointing, and also "garden," "world," and "terrestrial" rooms. The upper floor was the "celestial room," with an adjacent sealing room.
On the average, 25 to 30 endowments were given daily, for a total of 54,170 in the thirty-four years it was used. And an average of 2,500 marriages were also performed annually. In addition, the Endowment house served as a place for special prayer circles and the setting apart and instruction of newly called missionaries.
As the Salt Lake Temple neared completion, the Endowment house was torn down in November 1889. The Salt Lake Temple was dedicated April 6, 1893. A long-anticipated holy place for temple ordinances was then permanently established in Salt Lake City.
(See Basic Beliefs home page; Teachings About Temples home page)
Bibliography
Cowan, Richard O. Temples to Dot the Earth. Salt Lake City, 1989.
Lund, A. William. "History of the Salt Lake Endowment House." IE 39 (Apr. 1936):213.