Joseph F. Smith
by Bruce A. Van Orden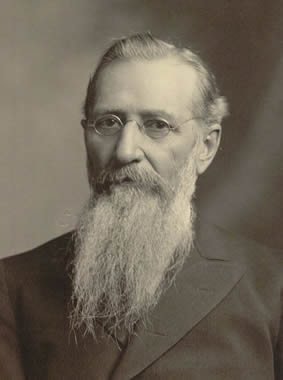 Joseph F. Smith (1838-1918) was ordained an apostle and counselor to Brigham Young at age 27 in 1866. He became the sixth President of the Church in October 1901, serving for a combined total of 52 years. He was an authority on Church doctrine.
Joseph F. Smith (1838-1918), sixth president of the church of Jesus Christ of Latter-day Saints (1901-1918), led the Church in the first two decades of the twentieth century and helped it win increasing respect in American society. He was a son of Hyrum Smith and Mary Fielding Smith and a nephew of the Prophet Joseph Smith.
Joseph Fielding Smith (his full name) was born in Far West, Missouri, on November 13, 1838, during one of the most strife-torn years in the Church's history. He was named after his uncle, the Prophet, and a maternal uncle, Joseph Fielding. Less than two weeks earlier, Joseph and Hyrum Smith had been arrested by the Missouri militia during the Battle of Far West (see Missouri Conflict). Mary Fielding, a Canadian convert to the Church who married Hyrum after the death of Jerusha Barden Smith, was severely ill when she gave birth to Joseph, her firstborn. Fortunately, Mary's sister Mercy Fielding Thompson, already nursing a five-month-old daughter, was able to nurse Joseph. One day soon after his birth, hostile men entered the house and ransacked the family's valuables. In the commotion, they threw bedding on the baby Joseph, and he nearly suffocated.
In January 1839, Mary and her two-month-old son visited Hyrum in Liberty Jail and in February fled Missouri with other Latter-day Saints to refuge in Quincy, Illinois. In May, after Hyrum escaped from Missouri authorities, the Smith family moved to the new gathering spot of the Church in Nauvoo, Illinois. Joseph, although only five and a half years old when his father and Joseph Smith were murdered in 1844, retained many impressions of the two men in Nauvoo.
In 1846 Mary Fielding Smith left Nauvoo for the West with Joseph and three other children. Another son, John, met her in Iowa. Mary had only two children herself, Joseph and Martha Ann, but she was also mothering the five children of Hyrum and his deceased first wife, Jerusha. Although only seven, young Joseph drove a team of oxen across Iowa. From the fall of 1846 to the spring of 1848, the fatherless family endured the privations of winter quarters, Nebraska, where many of the Saints suffered from sickness and some 359 died. Several of the family's horses and cattle, which Joseph tended, also died. At age nine he drove his mother's wagon across the plains to the valley of the Great Salt Lake.
In the early years in the Salt Lake Valley, Joseph tended cattle and sheep, cut wood, and hired out at harvest time. In 1852, when he was thirteen, his mother died from overwork and malnutrition. Throughout his long life, Joseph never forgot her example of faith and integrity and frequently told stories about her. Her death made him a substitute father to his sister, Martha Ann. While the two children were attending school in the winter of 1853-1854, a harsh schoolmaster took out a leather strap to punish the little girl. "Don't whip her with that," Joseph cried. Later he explained, "At that he came at me and was going to whip me; but instead of whipping me, I licked him, good and plenty" (Gibbons, pp. 26-27). During his youth, he struggled with a fiery temper before he eventually conquered it.
This incident both ended Joseph's short formal education and launched his long ecclesiastical career. In the next general conference he was called at age fifteen to serve in the Church's mission in the Sandwich Islands (Hawaii). Parley P. Pratt, an apostle, set Joseph apart and promised that he would master the Hawaiian language by study and the gift of the Spirit. Joseph served a remarkably successful mission, which lasted nearly four years. While in Hawaii, he served as conference president on the islands of Maui and Hawaii. He also overcame his own attacks of "island sickness" and became well known for his gifts of healing and of casting out evil spirits.
Immediately upon his return to Salt Lake City in 1858, Joseph joined the Nauvoo Legion, Utah Territory's militia, and started with an expedition of a thousand men to intercept Johnston's army. From his return until the end of the war in June he was almost constantly in the saddle, patrolling the region between Echo Canyon, in Utah, and Fort Bridger, in Wyoming. Upon the peaceful settlement of the Utah War, Joseph assisted his relatives in returning to Salt Lake City from the southern settlements where they had gone in anticipation of the invading army (see Utah Expedition).
In April 1859 twenty-one-year-old Joseph married his sixteen-year-old cousin Levira, daughter of Samuel Harrison Smith. With Levira's permission Joseph then married Julina Lambson in plural marriage. Later, he also married Sarah Ellen Richards, Edna Lambson, Alice Ann Kimball, and Mary Taylor Schwartz. He eventually was the father of forty-three children, thirteen of whom preceded him in death. Joseph was known as a kind and loving husband and father among members of his family.
Joseph served a mission in Great Britain from 1860 to 1863 and returned briefly to Hawaii in 1864 to help straighten out irregularities in Church affairs. While in Hawaii, he selected the site for a Church plantation on Oahu at Laie, presently the location of the Hawaii Temple, Brigham Young University—Hawaii Campus, and the Polynesian Cultural Center. Returning to Salt Lake City, he began work in 1865 as a clerk in the Church Historian's office. He was elected to the Territorial House of Representatives in 1865 and to the Salt Lake City Council in 1866. Later he served several consecutive terms in the Utah legislature. He was also a member of the Salt Lake Stake high council.
In 1866 Brigham Young ordained the twenty-seven-year-old Joseph an apostle. In 1867 he accompanied Abraham O. Smoot, former mayor of Salt Lake City, and fellow apostles John Taylor and Wilford Woodruff to Provo, Utah, where they acted as civic officials in an effort to suppress and redirect some "rowdy elements" that had arisen in the town's citizenry. He returned to Salt Lake City in 1869, resumed his duties in the Historian's office, and began officiating in ordinances in the Endowment house.
In 1874, now known as President Smith, he presided over both the European and British missions. Upon his return in late 1875, he was called as stake president over the Saints in Davis County, Utah, and was also president of the Davis County Cooperative Company, one of a chain of Church cooperatives established during the United Order era, initiated by Brigham Young in 1874. In April 1877, Elder Smith was again sent to Great Britain to preside over the European Mission. The death of Brigham Young in August 1877 interrupted this call. Elder Smith returned to Salt Lake City to help with the settlement of President Young's estate, putting in long hours and painstakingly going over financial records and correspondence in this complicated matter.
Joseph F. Smith's labors in the Church took a significant turn in October 1880 when, at age forty-one, he was set apart as second counselor to John Taylor in the First Presidency. The first counselor was George Q. Cannon, a close friend for many years. The two men also served as counselors to Presidents Wilford Woodruff and Lorenzo Snow. Both were experienced missionaries and Church administrators, well versed in Church history and doctrine.
In the 1870s and 1880s, mass rallies throughout the United States protesting the Church's practice of plural marriage were adding impetus to the federal government's increasingly stern antipolygamy crusade. Rather than submit to what they considered unjust laws, President Taylor and his counselors chose civil disobedience. Joseph spent much of 1883 and 1884 in seclusion, and in 1885, when a warrant was issued for the arrest of the members of the First Presidency, he went into hiding in Hawaii under the assumed name of J. F. Speight. Over the next two and a half years, he grieved that he could do little to provide for his wives and children. In June 1887 he was called back to Utah to the deathbed of President Taylor, who died on July 25.
Continuing to serve in his position as a member of the Twelve Apostles during the period from President Taylor's death to the sustaining of Wilford Woodruff as President of the Church, Joseph fulfilled an assignment as the chief lobbyist for the Church in Washington, D.C., during the terms of Congress in 1888 and 1889. The First Presidency was reorganized in April 1889, with Joseph called as second counselor to President Woodruff.
The new presidency continued further political negotiations concerning the principle of plural marriage in an effort to lift the burdens imposed by the federal government. These negotiations were inconclusive, but a revelation to President Woodruff, known as the manifesto of 1890, advised the Saints to refrain from contracting plural marriages where such were forbidden by law. The Manifesto gradually achieved the desired effect: prosecution of polygamists ceased, Church property was returned, and Utah obtained statehood. Joseph sought and obtained amnesty from U.S. President Benjamin Harrison and was able, for the first time in nearly a decade, to mingle openly in society and resume a normal life. After the Manifesto, Joseph continued to care for each of his wives and to have children by them.
He also took an active role in politics. The Church had been criticized for dominating politics in Utah through the People's party. In 1891 the People's party disbanded, and its members were encouraged to join the two national parties. To make sure of genuine diversity, the First Presidency asked Joseph F. Smith to join the Republican party, then the less popular of the two parties because of its leading part in the antipolygamy campaign. To strengthen the Republicans, in 1892 he published a pamphlet, Another Plain Talk: Reasons Why the People of Utah Should Be Republicans.
Following the death of Wilford Woodruff, Joseph continued as Second Counselor in the First Presidency from 1898 to 1901 while Lorenzo Snow was President. President Snow died on October 10, 1901, and at the next regular meeting of the Twelve in the temple on October 17, the First Presidency was reorganized, with sixty-two-year-old Joseph F. Smith as President and John R. Winder and Anthon H. Lund as counselors.
President Smith vigorously assumed the reins of leadership, determined to improve public opinion of the Church and its members. For half of his seventeen years as Church President, he was frustrated in this goal. He was forced to endure grueling interrogation before the U.S. Senate during the Smoot hearings, local editorial attacks from the Salt Lake Tribune, and diatribes from some of the nation's leading magazine editors. Gradually, however, partly through his genuine charity and his grandfatherly image, tension between the Church and the federal government and society diminished. President Smith labored indefatigably to strengthen the Church and improve its image by careful spending and getting out of debt; by purchasing and developing significant historical sites, such as Joseph Smith's birthplace in Vermont, the Smith farm in New York, important sites in Missouri, and Carthage Jail in Illinois; by completing the Church Administration Building, the LDS Hospital, a Church visitors bureau, and the Hotel Utah in Salt Lake City; and by promoting the expansion of the Church's missionary and educational systems.
One of Joseph F. Smith's legacies was through his exposition of various Church doctrines and of principles of priesthood government. He felt strongly that Church members should be taught "sound doctrine." Following his death in 1918, some of his voluminous teachings, recorded during five decades of instructing the Saints as a General Authority, were published under the title Gospel Doctrine. Possibly President Smith's most significant doctrinal contribution was his "Vision of the Redemption of the Dead," which he received on October 3, 1918, just six weeks prior to his death on November 19. In it he saw the world of departed spirits and many individuals who reside there, including ancient and modern prophets, and he viewed the visit of Jesus Christ to the spirit world, where Jesus declared liberty to the righteous and organized a mission to preach the gospel to the wicked spirits. In 1981 his account of this vision was added to the Doctrine and Covenants as section 138.
From an ambrotype, processed by Nelson Wadsworth.
(See Daily Living home page; Church History home page; People in Church History home page)
Illustrations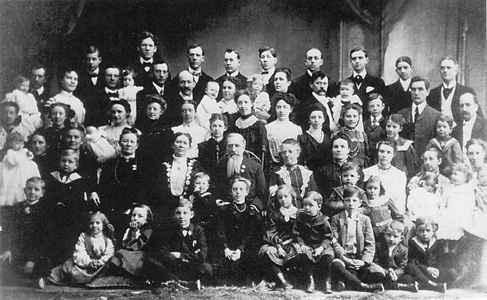 Joseph F. Smith and family (c. 1901). He and his wives had forty-eight children. His wives were Levira Annett Clark (m. 1859; no children; died 1888); Juliana Lambson, on his right (m. 1866; 13 children, including Joseph Fielding Smith top row center); Sarah Ellen Richards, on his left (m. 1868; 11 children); Edna Lambson, second on his right (m. 1871; 10 children); Alice Ann Kimball, second on his left (m. 1883; 7 children); and Mary Taylor Schwartz, third on his right (m. 1884; 7 children).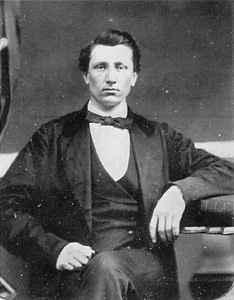 Bibliography
Gibbons, Francis M. Joseph F. Smith: Patriarch and Preacher, Prophet of God. Salt Lake City, 1984.
Smith, Joseph F. GD.
Smith, Joseph Fielding. Life of Joseph F. Smith. Salt Lake City, 1969.