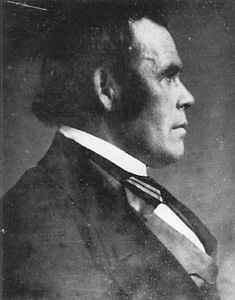 Parley P. Pratt (1807-1857), converted through the Book of Mormon in 1830, became one of the Church's leading writers and early apostles. His writings are spirited and open-ended, holding continuous revelation to be the key in the science of theology. He was killed in Arkansas in 1857. Daguerreotype, c. 1853 attributed to Marsena Cannon.
by Larry C. Porter
One of the most significant LDS missionaries, writers, poets, and thinkers to emerge during the early years of the LDS Restoration was Parley Parker Pratt (1807-1857). He was a central figure in expounding the doctrines of the gospel, and his publications set a standard for future pamphleteers. He was a member of the original Quorum of the Twelve Apostles in this dispensation and a leader in the migration to the Great Basin.
Pratt was born April 12, 1807, in Burlington, Otsego County, New York, the third son of Jared and Charity Pratt. He married Thankful Halsey on September 9, 1827, at Canaan, New York, and they made their home in Amherst township, Lorain County, Ohio. In Ohio, Parley became a member of the Reformed Baptist Society (Campbellite) through the preaching of Sidney Rigdon. While traveling on the Erie Canal in western New York, Parley came in contact with a Baptist deacon named Hamblin, who introduced him to a copy of the Book of Mormon. He then investigated the LDS Church and was baptized in Seneca Lake by Oliver Cowdery on September 1, 1830. In turn, he converted his younger brother, Orson Pratt, and baptized him on September 19, 1830.
From 1830 to 1857, Parley P. Pratt was constantly engaged in a variety of missionary assignments. Of special note was a 1,500-mile journey from Fayette, New York, to the western boundaries of Missouri with Oliver Cowdery, Peter Whitmer, Jr., and Ziba Peterson (D&C 32:1-2) on a mission to the Lamanites, beginning in October 1830 (see Lamanite Mission). En route, these missionaries converted some 130 persons in the Kirtland-Mentor area, including Sidney Rigdon and Frederick G. Williams, future members of the First Presidency. Upon reaching Missouri, Pratt was among the first members of the Church to stand upon the land later designated for the City of Zion, Independence, Jackson County (cf. D&C 57:2-3).
Parley Pratt was ordained an apostle on February 21, 1835, and sustained as a member of the Quorum of the Twelve. The first LDS hymnal (1835) included three hymns he had written. During a mission to the eastern states with the Twelve in the summer of 1835, Parley published eleven more hymns in conjunction with a long narrative poem in six chapters entitled The Millennium, A Poem. This volume became the first book of LDS poetry.
Pratt proselytized extensively in Upper Canada, leading to the conversion of John Taylor and his wife Leonora, Joseph Fielding, and Joseph's sisters, Mary and Mercy Fielding (see Smith, Mary Fielding). In 1838, he suffered persecution with the Saints in Missouri and spent nine months imprisoned in Richmond and Columbia before escaping to Illinois in July 1839.
Parley and Orson Pratt left Nauvoo, Illinois, on August 19, 1839, on an apostolic mission to the British Isles (see Missions of the Twelve to the British Isles). At a conference in Preston, England, Parley was named editor of the newly created Latter-day Saints' Millennial Star (see Millennial Star), which became the Church's longest continuous periodical—1840 to 1970.
Upon his return to Nauvoo, Parley was called to preside over the branches of the Church in New England and the Mid-Atlantic states with headquarters in New York City. Here he published a periodical entitled The Prophet.
February 1846 found Parley and his family crossing the territory of Iowa on a forced move from Illinois. During the summer and autumn of 1847, he traveled with his household to the Salt Lake Valley.
In 1851 the First Presidency called Elder Pratt to preside over a "General Mission to the Pacific" with headquarters in San Francisco. Sensing a duty to the peoples of Latin America, he, with his wife Phebe Soper, and Elder Rufus Allen, sailed to Valparaiso, Chile, in September 1851. Frustrated by language difficulties, poverty, the death of an infant son, and the ecclesiastical and political conditions in Chile, the missionaries returned to San Francisco in March 1852.
His publication A Voice of Warning (1837) became a model for other writers. The format, which employed descriptions of basic LDS doctrines and biblical references, arguments, and examples, was used by most Church writers for the next century. It was the first use of a book, other than the standard works, to spread the gospel message (Crawley, 1982, p. 15). His contributions to the dissemination of doctrine were extensive, and among his most significant works are Late Persecutions of the Church of Jesus Christ of Latter-day Saints…With a Sketch of Their Rise, Progress and Doctrine (1840); Key to the Science of Theology (1855); The Millennium and Other Poems: To Which is Annexed, a Treatise on the Regeneration of Matter (1840); and the Autobiography of Parley Parker Pratt (1874). (For additional publications, see Crawley, 1990; Robison, 1952.)
In 1856 Elder Pratt was called to another mission to the Eastern states. While returning to the West on May 13, 1857, he was killed by a man who had been seeking to murder him. This occurred about twelve miles northeast of Van Buren, Arkansas (S. Pratt, 1975). A monument now marks the site of his burial. Through the enduring legacy of his doctrinal writings, hymns, and poems, Parley Parker Pratt continues to instruct and inspire each new generation.
(See Daily Living home page; Church History home page; People in Church History home page)
Illustrations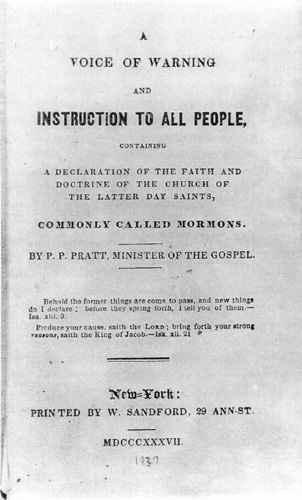 Parley P. Pratt's A Voice of Warning and Instruction to All People (1837) was the first Latter-day Saint book, other than the Book of Mormon, the Book of Commandments, and the 1835 hymnal. Widely used by missionaries in proclaiming the message of the gospel, it was very popular and influential throughout the nineteenth century. Courtesy Rare Books and Manuscripts, Brigham Young University.
Bibliography
Crawley, Peter L. "Parley P. Pratt: Father of Mormon Pamphleteering." Dialogue 15 (Autumn 1982):13-26.
Crawley, Peter L. The Essential Parley P. Pratt. Salt Lake City, 1990.
Pratt, Parley P. Autobiography of Parley P. Pratt, ed. Parley P. Pratt, Jr. Salt Lake City, 1874 and 1938.
Pratt, Steven. "Eleanor McLean and the Murder of Parley P. Pratt." BYU Studies 15 (Winter 1975):225-56.
Robison, Parley Parker. The Writings of Parley Parker Pratt. Salt Lake City, 1952.
Encyclopedia of Mormonism, Vol. 3, Parley Parker Pratt
Copyright © 1992 by Macmillan Publishing Company