Salt Lake Temple
The Salt Lake Temple was the sixth temple built by the Church of Jesus Christ of Latter-day Saints and the fourth finished after the Mormon pioneers' arrival in what is now the state of Utah. Its construction took 40 years, and it stands as an emblem of the Latter-day Saints' dedication and perseverance. It is also the most well-known temple and has come to symbolize the Mormon Church to many throughout the world.
In July of 1847, the first group of Latter-day Saint pioneers entered the Salt Lake Valley. Within a few days, their leader Brigham Young had indicated the precise location the holy edifice should stand by striking the ground with his cane and announcing, "This is where we will build a temple to our God." Construction of the temple began on February 14, 1853, following a groundbreaking ceremony conducted by Brigham Young.
A granite deposit was found nearby, and workers started to hand-chisel massive granite blocks which weighed between 2,500 and 5,600 pounds. They were transported by ox-drawn wagon (and later railroad) to the temple lot. Most of the labor was performed by volunteers who, despite their hardships in trying to settle a new land, gave freely of their time and skills. Brigham Young encouraged the Saints to make the Salt Lake Temple the best it could be. "Build not for today nor tomorrow, but for all eternity," he insisted.
There were numerous challenges which slowed the construction of the temple. At one point Church leaders learned that a U.S. Army contingent was being sent to Utah. Mormons distrusted the government that had allowed them to be persecuted and pushed out of Illinois, Missouri, Ohio, and New York, so the work on the temple was stopped and the entire foundation was buried. As positive relations developed between the U.S. Government and the Mormon Church, work on the temple was resumed. The foundation was uncovered, but workers found that there were cracks in the foundation blocks. They were forced to take them out and start over, using new stones that were cut to fit together without mortar.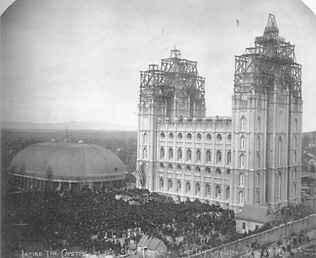 The Mormons worked tirelessly to build the 253,015-square-foot temple. Once the exterior was completed, skilled artists and craftsmen were brought in to complete the temple's 170 rooms. The interior furnishings were completed in one year, marking 40 years since the groundbreaking ceremony. The Salt Lake Temple became the largest Mormon temple, with 12 sealing rooms and four ordinance rooms.
Unfortunately, Brigham Young did not live to see the completion of the Salt Lake Temple; nor did his successor, John Taylor. The temple was finally finished under the direction of Wilford Woodruff, the fourth president of the Mormon Church. Dedicatory services took place in April of 1893.
The Salt Lake Temple remains at the heart of Salt Lake City, Utah, sharing the well-visited Temple Square with the historic Tabernacle and Assembly Hall.