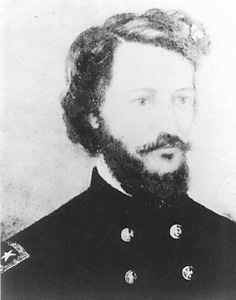 Thomas Leiper Kane (1822-1883) was known for his philanthropy. He helped those in prison and was kind to the Quakers. He was a loyal friend to the Latter-day Saints for almost forty years.
by Donald Q. Cannon
A courageous friend of the Latter-day Saints, Thomas Leiper Kane was born in Philadelphia on January 27, 1822. His great-grandfather John Kane (O'Kane) came to America from Ireland before the American Revolution. John's grandson John Kintzing Kane married June Duval Leiper, and they became the parents of Thomas L. Kane.
After completing his college training in Philadelphia in 1840, Thomas studied in England. Returning to America, he studied law under his father's direction and was admitted to the Pennsylvania bar in 1846. Then came a period of service with the U.S. Army, following which he became known as Colonel Kane.
Kane's introduction to the Mormon cause came in his native Philadelphia at a conference in May 1846 held under the direction of Jesse C. Little, presiding elder in the East, who was soliciting support for the Latter-day Saints' westward migration. Colonel Kane gave Little helpful letters of recommendation and later joined him in Washington, D.C., where they called on the secretary of state, secretary of war, and President James K. Polk. As a result of their negotiations, the United States agreed to enlist a battalion of 500 LDS men to serve in the campaign against Mexico (see Mormon Battalion).
Later, after carrying government dispatches to Fort Leavenworth, Kane rejoined Little in the Mormon camp on the Missouri, where he became seriously ill with pulmonary tuberculosis. The Saints nursed him back to health, and during his long convalescence he abandoned plans for a political career and decided to devote himself to helping the Latter-day Saints and other downtrodden people. The Saints later named their principal Iowa settlement Kanesville (present-day council bluffs) in recognition of his service. Although he was not a member of the Church, Colonel Kane received a patriarchal blessing from the Church's patriarch, John Smith, an uncle of Joseph Smith. This blessing furnished encouragement, and it also provided a bond with the Saints.
Kane rendered his most significant service by assisting the Saints during the Utah War. Responding to reports from federal officials in Utah, President James Buchanan ordered the Utah expedition of 2,500 U.S. Army troops to Utah. Traveling under the alias of Dr. Osborne, supposedly a botanist from Philadelphia, Dr. Kane came to Utah in 1858 and served as a mediator. He succeeded in convincing the newly appointed territorial governor, Alfred Cumming, that the Saints were not in a state of rebellion, and helped arrange a solution to the conflict that avoided a violent confrontation and preserved the peace.
Colonel Kane continued for many years as a friend and political adviser to the Saints. He promoted Utah statehood in the nation's capital throughout the 1850s and defended the Church, its leaders, and its interests at every opportunity. After outstanding service in the Civil War, Kane was promoted to major general. In 1872 he and his wife, Elizabeth, spent the winter in Utah. They traveled throughout the territory and stayed as guests of Brigham Young at his winter home in St. George.
When Brigham Young died in 1877, Kane returned to Utah to express his sorrow and to assure the Church of his continued support. Upon Kane's death in 1883, Church leaders eulogized him for his staunch friendship and assistance. Today the Church helps maintain as a historic site the Thomas L. Kane Memorial Chapel, in Kane, Pennsylvania, where Kane is buried.
(See Daily Living home page; Church History home page; People in Church History home page)
Bibliography
Arrington, Leonard J. "In Honorable Remembrance: Thomas L. Kane's Services to the Mormons." BYU Studies 21 (Fall, 1981):389-402.
Cannon, Donald Q. "Thomas L. Kane Meets the Mormons." BYU Studies 18 (Fall 1977):126-28.
Kane, Elizabeth [Mrs. Thomas L.]. Twelve Mormon Homes Visited in Succession on a Journey Through Utah to Arizona, ed. Everett L. Cooley. Salt Lake City, 1975.
Zobell, Albert L., Jr. Sentinel in the East: A Biography of Thomas L. Kane. Salt Lake City, 1965.
Encyclopedia of Mormonism
Copyright © 1992 by Macmillan Publishing Company