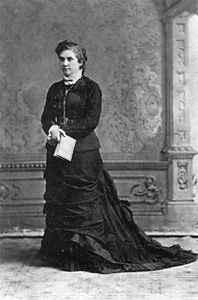 Susa Young Gates (1856-1933), daughter of Brigham Young, was a leader, editor, trustee of Brigham Young University, active in the local and national women's organizations, and the mother of ten sons and three daughters. Courtesy Utah State Historical Society.
by Louise Plummer
Susa (Susan, Susannah) Gates was born on March 18, 1856, in Salt Lake City. A writer, publisher, advocate for women's achievements, educator, missionary, genealogist, temple worker, wife, and mother of thirteen children, she was fond of saying, "Keep busy in the face of discouragement" (Person, p. 208).
The second daughter of Brigham Young's twenty-second wife, Lucy Bigelow Young, Susa Young has been called "the most versatile and prolific LDS writer ever to take up the pen in defense of her religion" (Cracroft, p. 73). Following private education that included music and ballet, she entered the University of Deseret at age thirteen. The next year she became co-editor of the College Lantern, possibly the first western college newspaper.
In 1872, at age sixteen, she married Dr. Alma Bailey Dunford; they had two children, Leah Eudora Dunford and Alma Bailey Dunford. The marriage ended in divorce in 1877. The next year, Susa entered Brigham Young academy in Provo and, while a student, founded the department of music and conducted a choir. During a trip to the Sandwich Islands (Hawaii), she renewed her acquaintance with Jacob F. Gates, whom she married on January 5, 1880. The success of their marriage has been attributed to their mutual respect for, and support of, one another's work. Only four of the eleven children born to this marriage survived to adulthood: Emma Lucy Gates Bowen, Brigham Cecil Gates, Harvey Harris (Hal) Gates, and Franklin Young Gates.
During the 1880s and 1890s, Susa Gates focused her energy on childbearing and child-rearing, missionary work, education, writing, and women's concerns. After completing a Church mission with her husband to the Sandwich Islands in 1889, she founded the Young Woman's Journal. It was adopted as the official magazine for the Young Ladies Mutual Improvement Association (see Young Women) in 1897. She founded the Utah Woman's Press Club, became press chairman of the National Council of Women, and founded the Relief Society magazine, which she edited until 1922. She wrote biographies of Lydia Knight and of her father, Brigham Young, novels including John Stevens' Courtship and The Prince of Ur, a pamphlet entitled the "Teachings of Brigham Young," and a history of women in the Church, on which she was still working at the time of her death.
Concern for women's achievements was a prominent force in Susa Gates's life. During the 1890s, while she was most occupied with raising her own children, she became a charter member of the National Household Economic Association and was a representative to women's congresses in Denver, Washington, D.C., Toronto, and London, where she was invited to speak on the topic "Equal Moral Standards for Men and Women" and where she joined other women of the International Council, including Susan B. Anthony, for tea with Queen Victoria.
At the turn of the century, Susa suffered a nervous and physical breakdown. Ill for three years, she was forced to terminate a mission that she and her husband had begun in 1902. A priesthood blessing that promised her she would live to do temple work marked the beginning of her recovery. She underwent a year of intense spiritual introspection and later wrote of that period, "I disciplined my taste, my desires and my impulses—severely disciplining my appetite, my tongue, my acts…and how I prayed!" (Person, p. 212). While maintaining her commitments to family and women's advancement, she focused her energy on genealogy and temple work.
In 1906, Susa Young Gates organized genealogical departments in two newspapers, the Inter Mountain Republican and the Deseret News, and wrote columns for both papers over the next ten years. She produced instructional manuals for genealogists, devised a systematic index of names for the Church, and published the Surname Book and Racial History. In 1915, she introduced genealogical class work at the International Genealogy Conference in San Francisco and became head of the Research Department and Library of the Genealogical Society of Utah in 1923. She personally cataloged more than 16,000 names of the Young family. She spent much time in the last years of her life doing ordinance work in the Salt Lake Temple with her husband. She died on May 27, 1933.
(See Daily Living home page; Church History home page)
Bibliography
Arrington, Leonard J. "Blessed Damozels: Women in Mormon History." Dialogue 6 (Summer 1971):22-31.
Cracroft, R. Paul. "Susa Young Gates: Her Life and Literary Work." Master's thesis, University of Utah, 1951.
Person, Carolyn W. D. "Susa Young Gates." In Mormon Sisters: Women in Early Utah, ed. Claudia L. Bushman, pp. 198-223. Cambridge, Mass., 1976.
Encyclopedia of Mormonism, Vol. 2, Gates, Susa Young
Copyright © 1992 by Macmillan Publishing Company