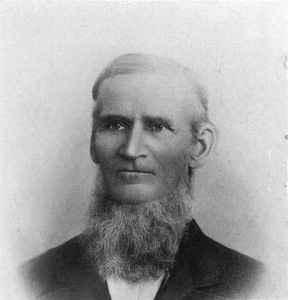 Richard Ballantyne (1817-1898) was a native of Scotland, where he taught Sunday School in the Presbyterian Church. He began Sunday Sabbath instruction for LDS children in his Salt Lake City home in 1849. He later organized Sunday Schools in other communities where he lived. His success inspired a church wide movement. Courtesy the Utah State Historical Society.
by J. Hugh Baird
Richard Ballantyne was born in Whitridgebog, Roxburgshire, Scotland, on August 26, 1817, to David Ballantyne and Ann Bannerman. He was strong-minded, and ever worked for justice for the oppressed and mercy for the sinner and the weak. In his early days, Richard was frugal, somewhat austere, and honest in his business; in later years, he displayed sympathy and affection. His concern for the moral and spiritual welfare of children led him to establish the first LDS Sunday school, in 1849, in Salt Lake City.
Ballantyne was brought up in the Relief Presbyterian Church. As a youth he worked on his parents' farm. Between the ages of nine and fourteen he occasionally attended school during the winter. At fourteen he was apprenticed to a baker; subsequently, he bought the business and managed it until he left Scotland.
In December 1842, at age twenty-five, Ballantyne was baptized into the Church at Leith, in the waters of the Fifth of Forth. The following year he, his mother, two sisters, and a brother immigrated to Nauvoo, where he managed several businesses and engaged in farming along the Mississippi River. In Nauvoo he suffered persecution along with many of the Saints. In the summer of 1846, he and four other men were kidnapped by a mob, held hostage, and threatened with death. After two weeks, the mob bargained with Church leaders and returned the men to Nauvoo to avoid being charged with the kidnapping.
That same year, Ballantyne was ordained a seventy and, soon after, a high priest. At the exodus from Nauvoo in 1846, he remained behind to help settle the Saints' affairs. In September of that year, having completed his assignment, he moved to winter quarters. On February 17, 1847, he married Hulda Meriah Clark. They entered Utah in 1848, their first son having been born while they were crossing the plains.
Upon arriving in Salt Lake City, Ballantyne immediately considered the possibilities of schooling for the children. He asked for and received his bishop's permission to establish a Sunday School. Because no suitable meeting place was available, he added a room onto his home and held the first Sunday School in the Church on December 9, 1849. Approximately fifty students attended. Later this Sunday School was moved to the Fourteenth Ward meetinghouse. When asked why he had been so desirous of organizing a Sunday School, he replied:
I was early called to this work by the voice of the spirit, and I have felt many times that I have been ordained to this work before I was born, for even before I joined the church I was moved upon to work for the young. Surely no more joyful nor profitable labor can be performed by an Elder [Jenson, Vol. 1, p. 705].
In the fall of 1852, Ballantyne was called on a mission to India, and arrived in Calcutta on July 24, 1853. Although the work was very discouraging, he worked hard until his release and return to Utah in September 1855 (See The Church in Asia)
He married Mary Pierce on November 27, 1855, as a plural wife, and about two years later married Caroline Sanderson. He and his three wives had twenty-two children and more than one hundred grandchildren.
During his life in Utah, Ballantyne managed several businesses, including two railroads, a newspaper, and several merchandising companies. He was a member of the Weber County Court for fourteen years. At the time of his death, November 8, 1898, he was a senior member of the high council of the Ogden Utah Stake.
(See Daily Living home page; Church History home page)
Bibliography
Ashton, Wendell J. Theirs in the Kingdom, 2nd ed., pp. 235-58. Salt Lake City, 1970.
Cannon, Donald Q., and David J. Whittaker, eds. Supporting Saints: Life Stories of Nineteenth-Century Mormons. Provo, Utah, 1985.
CHC, 3:6-9; 4:72-73; 5:478-80.
Jenson, Andrew, ed. Latter-Day Saint Biographical Encyclopedia, Vol. 1, pp. 703-706. Salt Lake City, 1971.
Encyclopedia of Mormonism, Vol. 1, Richard Ballantyne
Copyright © 1992 by Macmillan Publishing Company