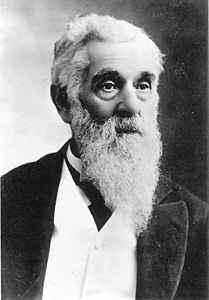 Lorenzo Snow became the fifth President of the Church in 1898. He is remembered for his masterful leadership of the Brigham City United Order, his visionary prophetic gifts, and his reemphasis of the law of tithing following two difficult decades. Courtesy Rare Books and manuscripts, Brigham Young University.
by Maureen Ursenbach Beecher and Paul Thomas Smith
Lorenzo Snow (1814-1901) was the fifth President of The Church of Jesus Christ of Latter-day Saints, from 1898 to 1901. A well-educated and refined man, he served many missions for the Church, traveling to England, Italy, and the Pacific, as well as in the southern and northwestern United States. Coming to the presidency when the Church suffered under a crushing weight of debt, President Snow reinvigorated tithe-paying among the Saints and put the Church on the road to financial solvency.
Born on April 3, 1814, the oldest son of Oliver and Rosetta Pettibone Snow, Lorenzo was the fifth of seven children. He grew to manhood in Mantua, Portage County, Ohio, where his parents had established themselves as leaders in the community. His father's public duties often took him from home, so the responsibility of the farm fell to Lorenzo and his younger brothers. Bookish by nature, Lorenzo pursued his education beyond the common schools in Mantua to the high school in nearby Ravenna, and completed one term at newly founded Oberlin College.
The family were Baptists with broad religious interests. While Lorenzo was in his teens, the Prophet Joseph Smith took up residence in Hiram, four miles from the Snow farm. Although Lorenzo's sister Eliza, in her biography of him, claims to have whetted his interest in Mormonism while he was at Oberlin, his own account tells of hearing the Book of Mormon being read in his home in Mantua and of later meeting with the Prophet at Hiram in 1831. Contrary to the common accusations that Joseph Smith was a "false prophet," Lorenzo judged him to be "honest and sincere." He later said that at that time "a light arose in my understanding which has never been extinguished" (IE 40 [Feb. 1937]:82-83; Lorenzo Snow journal, Church Archives).
Lorenzo's mother, his two oldest sisters, and probably his father were soon baptized into the Church, but Lorenzo left for Oberlin uncommited. A chance meeting with David W. Patten, an apostle, provided further information on the new Church, and as the young scholar began his work at Oberlin, he lost favor among the students and faculty by arguing in defense of Mormonism. Seeing an opportunity to continue his studies in Kirtland, he joined his two sisters there and on June 19, 1836, was baptized. He soon after received a manifestation that confirmed for him "a perfect knowledge that God lives, that Jesus Christ is the Son of God, and of the restoration of the holy Priesthood, and the fulness of the Gospel" (Smith, pp. 7-8). That conviction directed his actions for the remainder of his life.
Giving up his plans for further formal education, Lorenzo set out on a series of missions for the Church in early spring 1837, first to the Mantua area, where he baptized some of his friends and relatives, and then to other Ohio counties before returning to Kirtland. In 1838 the Snows joined the Saints in Missouri, and Lorenzo left for another mission, this time to Illinois and Kentucky. While the Saints settled Nauvoo and his parents moved farther on, to Walnut Grove, Illinois, Lorenzo went as a missionary to England.
Elder Snow taught in and around Birmingham for three months, during which time he baptized people in Greet's Green and organized a branch in Wolverhampton. In February 1841 the twenty-six-year-old missionary was called to preside over the ten established branches in London. He returned to Nauvoo in 1843 as leader of a shipload of 250 converts. En route, Elder Snow's quiet confidence, his healing of a dying steward, and the faith of his company of Saints led to the baptism of the ship's first mate and several of the crew. The party arrived in Nauvoo on April 12, 1843.
In accordance with the revelation on plural marriage, Snow married Charlotte Squires, Mary Adaline Goddard, Sarah Ann Prichard, and Harriet Amelia Squires before leaving Nauvoo in the 1846 exodus. On the way west, the family had to stop at Mt. Pisgah, Iowa, because of his illness. Two of his three children born there survived. Called to preside over the temporary settlement, Snow actively raised money to assist the Saints in the move west. The family moved on to Salt Lake City in 1848.
On February 12, 1849, Lorenzo Snow was ordained a member of the Quorum of the Twelve Apostles. Assigned that summer to direct the first celebration of the Saints' entry into the Salt Lake Valley, Elder Snow established a reputation for pageantry as a way of building morale and group identity. For decades afterward, settlements throughout the Church followed his lead in celebrating significant events.
At the October 1849 conference, Elder Snow was assigned to fill a mission in Italy. Traveling with the first company of missionaries from Utah, he went first to England and there determined by study and by "a flood of light" that the work should begin among the Waldenses in the Piedmont area of northern Italy. He and his companions were successful in bringing several Waldensian converts to Utah, but the mission itself did not remain active. Snow extended the work to Switzerland, left missionaries there, and sent two more to India. Returning to Britain, he superintended the publication of an Italian translation of the Book of Mormon. Crossing France once more, he visited Switzerland and the Piedmont and concluded his mission in Malta.
After an absence of nearly three years, Elder Snow returned to Utah, arriving July 30, 1852, to discover that his wife Charlotte had died in his absence. He was immediately caught up in community activities. He organized the Polysophical Association to promote cultural refinement for the community. That fall, he was elected to the Utah legislature, where he served with distinction for twenty-nine years, ten of them as president of the Legislative Council.
In 1853, Elder Snow was called to lead a colonization group of fifty families and preside over the Saints in Box Elder County, Utah, headquartered in a struggling settlement of modest adobe huts later known as Brigham City. He established a dramatics society, a public school system, and the Brigham City Mercantile and Manufacturing Association, with forty departments. The association, a branch of the United Order, became the most successful cooperative in the territory; its production for 1875 was valued at $260,000.
In 1864, Elder Snow accompanied four other missionaries on a short-term mission to the Sandwich (Hawaiian) Islands. He drowned when their small boat capsized in Lahaina Harbor but was restored to life when his friends were impressed to perform mouth-to-mouth resuscitation, a procedure unknown at that time. On Lanai the elders excommunicated the self-appointed Hawaiian mission president, Walter Murray Gibson, for organizing a new church, selling priesthood offices to men and women, and usurping Church property.
After all these missions abroad, still more were to come. Eight years later, Elder Snow accompanied George A. Smith, a member of the First Presidency, and others to Palestine, where, on the Mount of Olives, they blessed the land to be fruitful and dedicated the country for the return of the jews. In 1885 he served a short-term mission among the Native Americans in the Pacific Northwest.
Shortly after his return to Utah, Snow was tried and imprisoned for violation of the 1882 Edmunds Act, which prohibited the practice of polygamy. The territorial governor, Caleb W. West, promised amnesty if he would renounce plural marriage, but Elder Snow replied, "I thank you, Governor, but having adopted sacred and holy principles for which we have already sacrificed property, home and life on several occasions,…we do not propose, at this late hour, to abandon them because of threatened danger" (Romney, p. 381). He remained in prison for eleven months before being released under mandate of the U.S. Supreme Court.
Elder Snow radiated a purity and holiness that were extraordinary. He dedicated the Manti Temple in south-central Utah in 1888. Rhoda W. Smith, who was present, wrote, "When Apostle Lorenzo Snow arose, a beautiful heavenly light enveloped his head and shoulders; he looked angelic" (Spiritual Manifestations in the Manti Temple, Millennial Star, 50, Aug. 13, 1888, p. 522).
About the time of his conversion as a young man, Elder Snow had been promised an ancient apostolic power by Joseph Smith, Sr.: "If expedient the dead shall rise and come forth at thy bidding" (Romney, p. 406). In 1891, he restored life to a young woman, Ella Jensen, after she had been dead for two hours.
During the April 1889 general conference, Lorenzo Snow was sustained as President of the Quorum of the Twelve Apostles. He became the first president of the Salt Lake Temple in 1893, and on September 13, 1898, at age eighty-four, he was sustained as the fifth President of the Church. Worried about his advanced age, he pleaded for a manifestation of divine will. He testified that the Lord appeared to him in the Salt Lake Temple and affirmed that he should serve and that he should immediately reorganize the First Presidency (pp. 677-79). The reorganization took place without the lengthy interval that had followed the deaths of the first four Presidents of the Church and established a custom of immediate succession.
Another question firmly resolved by his succession was that seniority among the Twelve was determined not by chronological age but by date of ordination to the quorum.
Humble and self-effacing, President Snow told the Council of the Twelve, "I do not want this administration to be known as Lorenzo Snow's administration, but as God's in and through Lorenzo Snow" (L.D.S. Biographical Encyclopedia, Vol. 1, p. 30, Salt Lake City, 1901).
By 1898 the Church owed $2.3 million, an overwhelming burden of debt considering its resources. The major cause of debt was the U.S. government's escheat of Church properties under the provisions of the Edmunds-Tucker Act of 1887. Most of the Church's assets, including tithing funds, had been seized by federal agents. Many Saints reacted by curtailing financial donations; tithing receipts declined from more than $500,000 a year in the 1880s to about $350,000 in the 1890s.
The First Presidency consolidated debts, offered two $500,000 bond issues, and sold its controlling interest in many businesses. These measures, though helpful, were not sufficient. In 1899, President Snow, addressing the debt problem in a talk in the St. George (Utah) Tabernacle, received a spiritual manifestation: "This is the answer to our financial problems. Even though as a Church we are heavily in debt, I say unto you that, if this people will pay a full and honest tithing, the shackles of indebtedness will be removed from us" (MFP 3:322; see also Journal History entry for May 8, 1899). Carrying this message to the Saints throughout the territory, he stimulated a renewed commitment to tithing, and the Church's debt problems were resolved before he died.
As the new century dawned in 1901, President Snow stressed the worldwide mission of the General Authorities of the Church: "Here are the Apostles and the Seventies, their business is to warn the nations of the earth and prepare the world for the coming of the Savior" (CHC 6:377). He also encouraged the Saints in foreign lands to remain there and build up the Church rather than migrate to Salt Lake City.
President Snow spoke of introducing missionary work in Russia, Austria, and Latin America. He reopened the Mexican Mission and assigned Heber J. Grant of the Quorum of the Twelve Apostles to establish a proselytizing mission in Japan. Locally, young men were called to serve as stake missionaries of the Young Men's Mutual Improvement Association (YMMIA) to recommit youth to participation in the YMMIA (see Young Men).
Suffering from declining health, President Snow died of pneumonia in the Beehive House, the residence of the President, on October 10, 1901. At the time of his death, there were 50 stakes and 292,931 members in the Church, an increase of 10 stakes and 25,680 members during his three-year presidency.
Lorenzo Snow was small and slender in appearance. He stood five feet, six inches tall, weighed 140 pounds, and had tranquil gray eyes and a full beard. He was a scholar, schoolmaster, missionary, legislator, cooperative leader, financier, temple worker, and prophet. He had a profound effect upon Latter-day Saints and non-Mormons alike, with his heavenly countenance and sweet, gentle dignity. Meeting him for the first time, a Protestant minister said, "I was startled to see the holiest face I had ever been privileged to look upon…. The strangest feeling stole over me, that I stood on holy ground." Another minister said, "The tenor of his spirit is as gentle as a child. You are introduced to him. You are pleased with him. You converse with him, you like him. You visit with him long…, you love him" (Romney, pp. 14-16).
(See Daily Living home page; Church History home page; People in Church History home page)
Illustrations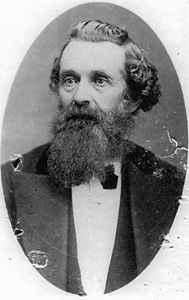 Lorenzo Snow (1814-1901) joined the Church in Kirtland, Ohio, in 1836. In 1840 he had a spiritual manifestation of the pathway of God and man, and he penned the famous couplet which expresses that revelation: "As man now is, God once was: As God now is, man may be." He was ordained an apostle in 1849. Courtesy Rare Books and Manuscripts, Brigham Young University.
Bibliography
Gibbons, Francis M. Lorenzo Snow, Spiritual Giant, Prophet of God. Salt Lake City, 1982.
Romney, Thomas C. The Life of Lorenzo Snow, Fifth President of the Church of Jesus Christ of Latter-day Saints. Salt Lake City, 1955.
Smith, Eliza R. Snow. Biography and Family Record of Lorenzo Snow. Salt Lake City, 1884.
Snow, Leroi C. "An Experience of My Father." IE 36 (Sept. 1933):677-79.
Swinton, Heidi S. "Lorenzo Snow." In Presidents of the Church, ed. Leonard J. Arrington. Salt Lake City, 1987.
Williams, Clyde J. The Teachings of Lorenzo Snow, Fifth President of the Church of Jesus Christ of Latter-day Saints. Salt Lake City, 1984.
Encyclopedia of Mormonism
Copyright © 1992 by Macmillan Publishing Company