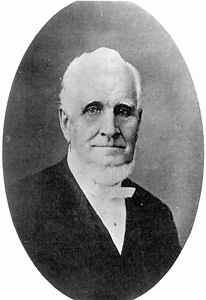 John Taylor (1808-1887), third President of the Church, was an articulate author, editor, publisher and refined spokesman for the Church. He strengthened the priesthood organization and guided the Church during its darkest hours of legal persecution in the 1880s..
by Paul Thomas Smith
John Taylor (1808-1887), the third President of The Church of Jesus Christ of Latter-day Saints, was born in Milnthorpe, Westmorland (now Cumbria), England, a son of James and Agnes Taylor. After John's formal schooling ended at the age of fourteen, he became a skilled woodturner and cabinetmaker. Much of his youth was spent in a picturesque region that inspired many of England's finest artists, poets, and writers. John himself would later be recognized for his cultural refinement and literary ability.
Although John was christened in the Church of England, he thought little of its creeds and at the age of sixteen joined the Methodist church. He was appointed a lay preacher a year later. He later remembered having a "strong impression on my mind" that he must "go to America to preach the gospel!" (Roberts, p. 28). He followed his parents to Canada in 1832, where he met and married Leonora Cannon, a refined and intelligent young woman from the Isle of Man. In Toronto he preached for the Methodists, but told his wife that "this is not the work; it is something of more importance" (Roberts, p. 30). The Taylors belonged to a religious-studies group that prayed for the restoration of New Testament Christianity. They embraced Mormonism as the answer to their prayers and were baptized in 1836. Afterward, serving the Church became Taylor's life work. In 1837 the Taylors moved to Far West, Missouri, where Taylor was ordained an apostle on December 19, 1838. He played a prominent role in assisting the Saints as they fled from mob persecutions to a new gathering place at Commerce, Illinois. In 1839 he accompanied a number of his fellow apostles to the British Isles, where he opened Ireland and the Isle of Man for preaching the gospel and gained a reputation as a powerful debater (see Missions of the Twelve to British Isles). A bold advocate of the Church and the Prophet Joseph Smith, John Taylor was called a "defender of the faith."
In Nauvoo he began a lifetime of community service. He served as a Nauvoo city councilman, a chaplain, a colonel, and a judge advocate for the Nauvoo Legion, the city's militia. As a newspaper editor, he published the times and seasons (1842-1846) and the Nauvoo neighbor (1843-1846).
John Taylor was with Joseph and Hyrum Smith in the Carthage Jail when the Smiths were martyred as they awaited a hearing regarding the destruction of an anti-Mormon newspaper. Severely wounded himself, Taylor became known as a living martyr. His tribute to the fallen brothers was later canonized as Section 135 of the Doctrine and Covenants. (See Matrydom of Joseph and Hyrum Smith)
Two years after the death of Joseph Smith, the Church moved westward from Nauvoo under the direction of Brigham Young. While in Winter Quarters, Nebraska, Taylor was sent on a short-term mission to England to resolve problems in Church leadership there. Upon his return, he and Parley P. Pratt led 1,500 Saints to the Salt Lake Valley, arriving in the fall of 1847.
Taylor applied for U.S. citizenship in 1849, and in that year was appointed an associate judge under the provisional state of Deseret (1849). Serving in the territorial legislature from 1853 to 1876, he was elected Speaker of the House for five consecutive sessions, beginning in 1857. For two years (1868-1870), he served as probate judge of Utah County, and in 1876 he was elected territorial superintendent of schools. In all of his offices, he felt dependent on the inspiration of God. "No man or set of men," he once declared, "of their own wisdom and by their own talents, are capable of governing the human family aright" (JD 9:10).
In 1849, Taylor returned to Europe, where he presided over missionary work in France and Germany and directed the translation and publication of a French-German edition of the Book of Mormon. He also wrote a short book, The Government of God (1852), in which he compared and contrasted the systems of God and man: "In God's government there is perfect order, harmony, beauty, magnificence, and grandeur; in the government of man, confusion, disorder, instability, misery, discord, and death" (p. 2). He described numerous examples of earthly societies that failed to resolve the problems of mankind, concluding that the only solution is "for his servants, to draw nigh to their Father,…throw themselves upon his guardianship, seek his wisdom and government, and claim a father's benediction" (p. 31).
While in Europe he founded the Deseret Manufacturing Company at the request of Brigham Young and purchased expensive sugar-processing equipment in Liverpool, that was shipped to Salt Lake City. It was his most notable failure. Lacking retorts, a key component, the assembled machinery produced only a good-quality molasses.
Following the death of Brigham Young in 1877, the Council of the Twelve governed the Church, with John Taylor as the senior apostle, presiding until he was set apart as the Church's third President in 1880. His motto as president was The Kingdom of God or Nothing. Although his most notable achievement was to hold the Church together under the intensifying pressure of the antipolygamy campaign, much else was achieved during his administration, especially in the early years. Under his direction, four new missions were organized; Mormon settlements were established in Colorado, Wyoming, and Arizona; construction continued on the Salt Lake and Manti temples; and the Logan Temple was dedicated. To encourage the Saints' economic independence, President Taylor established Zion's Central Board of Trade, a coordinating agency that encouraged cooperative economic activity in the Church's stakes.
On April 6, 1880, the fiftieth anniversary of the Church, President Taylor proclaimed a jubilee year, as observed in the Old Testament. "It occurred to me," he said, "that we ought to do something, as they did in former times, to relieve those that are oppressed with debt, to assist those that are needy,…and to make it a time of general rejoicing" (Roberts, p. 333). One-half of the debts owed by the Saints to the Perpetual Emigrating Fund, borrowed on migrating to Utah, was forgiven ($802,000), and one thousand cows and five thousand sheep were distributed to the poor, replacing many animals that had been lost in severe winter storms.
In October 1880, during President Taylor's administration, the Pearl of Great Price, a collection of ancient and modern scriptures, was canonized. A new edition of the Doctrine and Covenants, incorporating extensive cross-references and explanatory notes, was also published. The Primary Association, a children's auxiliary, and the Young Ladies' Mutual Improvement Association (see Young Women), an organization for girls twelve through seventeen, were adopted Churchwide.
During the first years of his administration, while still President of the Quorum of Twelve Apostles, President Taylor continued work begun under Brigham Young in changing significant priesthood functions and defining important relationships. Members of the seventy, one of the offices of the Melchizedek Priesthood, were organized into stake quorums. The relationship of the ward bishop to the priesthood and that of the Aaronic Priesthood to the Melchizedek Priesthood were clarified. Weekly bishopric meetings and monthly general stake priesthood meetings were inaugurated. Stake presidents were instructed to hold quarterly conferences under the direction of the First Presidency. President Taylor wrote a short work entitled Items on Priesthood (1881) to help the priesthood serve more effectively. He also wrote The Mediation and Atonement of Our Lord and Savior Jesus Christ (1882) as his witness of the preeminent role of the Son of God in the salvation of humankind; in it, he assembled scriptural passages pertaining to Christ's Atonement and offered a commentary on their meaning.
Although he knew that obedience to authority brought strength and unity to the Church, President Taylor also stressed the importance of common consent: "The government of God is not…where one man dictates and everybody obeys without having a voice in it. We have our voice and agency, and act with the most perfect freedom" (1987, p. 321). A frequent theme expressed throughout his life was his love of liberty and hatred of slavery. "I'm God's free man," he said. "I cannot, will not be a slave!" (Roberts, p. 424). For such forthright determination he was called the "Champion of Liberty."
President Taylor was about six feet tall and weighed 180 pounds. He had large hands, an oval face, a high forehead, and deep-set gray eyes. As a young man, he had curly brown hair, which turned silver white in middle age. Erect in posture and fastidious in dress, he was polite, dignified, gracious, affable, and friendly. His speech was calm and deliberate, delivered in a voice that was clear, strong, and resonant. He enjoyed telling stories and had a keen sense of humor and a hearty laugh that shook his entire body. He generally did not prepare sermons ahead of time but depended upon inspiration as he spoke. He used gestures sparingly but with effect. An accomplished poet, his lyrics were used for several hymns published in the Church's hymnal.
In his private life, President Taylor was a kind and loving husband and father. He entered into Plural Marriage, as counseled by Joseph Smith, and fathered thirty-five children by his seven wives. He went to great lengths to be fair and impartial with each of his families. The names and number of his wives are in dispute, but the women who were certainly married to him were Leonora Cannon, Elizabeth Haigham, Jane Ballantyne, Mary Ann Oakley, Sophia Whitaker, Harriet Whitaker, and Margaret Young.
During President Taylor's ministry, persecution of the Church grew in intensity. Three missionaries were killed in the southern states; and the U.S. secretary of state attempted to prevent Mormon immigrants from entering the United States, citing them as potential lawbreakers because of the Church's practice of polygamy. Congress passed the Edmunds Act in 1882, declaring polygamy to be a felony. Under its provisions, polygamists could not vote, hold public office, or serve on juries. The General Authorities discussed the Church's course of action as well as their hopes for achieving statehood. Wilford Woodruff later wrote that "President Taylor with the rest of us came to the conclusion that we could not swap of[f] the Kingdom of God or any of its Laws or Principles for a state government" (Wilford Woodruff Journal, Nov. 27, 1882). Mounting antipolygamy prosecution, known as "the Crusade," led to the arrest and imprisonment of hundreds of men and women. President Taylor instructed polygamous Saints to establish places of refuge in Mexico and Canada, and he and his counselors withdrew from public view to live in the "Underground." During his last public sermon he remarked, "I would like to obey and place myself in subjection to every law of man. What then? Am I to disobey the law of God? Has any man a right to control my conscience, or your conscience?…No man has a right to do it" (JD 26:152).
Persecution intensified in 1887 with the passage of the Edmunds-Tucker Act, which abolished women's suffrage, forced wives to testify against their husbands, disincorporated the Church, and escheated much of its property to the United States. For two and a half years, President Taylor presided over the Church in exile. The strain took a great toll on his health. He died on July 25, 1887, from congestive heart failure while living in seclusion at the farm home of Thomas F. Roueche in Kaysville, Utah. He was eulogized as a "double martyr" for his near-fatal wounds in Carthage Jail and for his sacrifice for religious principles.
(See Daily Living home page; Church History home page; People in Church History home page)
Illustrations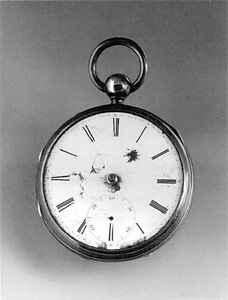 John Taylor's watch was struck with a ball fired in Carthage Jail when he and others were attacked by the mob that killed Joseph Smith.
Bibliography
Gibbons, Francis M. John Taylor: Mormon Philosopher, Prophet of God. Salt Lake City, 1985.
Roberts, B. H. The Life of John Taylor. Salt Lake City, 1963.
Smith, Paul Thomas. "John Taylor." In Presidents of the Church, ed. L. Arrington, pp. 74-114. Salt Lake City, 1987.
Taylor, John. The Gospel Kingdom: Selections for the Writings and Discourses of John Taylor, ed. G. Homer Durham. Salt Lake City, 1987.
Taylor, Samuel W., and Raymond W. Taylor. The John Taylor Papers, Records of the Last Utah Pioneer: Vol. 1, 1836-1877, The Apostle, and Vol. 2, 1877-1887, The President. Redwood City, Calif., 1984-1985.
Encyclopedia of Mormonism, Vol. 4, John Taylor
Copyright © 1992 by Macmillan Publishing Company