James E. Faust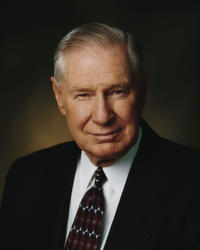 President James E. Faust was set apart as second counselor to President Gordon B. Hinckley on March 12, 1995, after serving as an apostle for 16 years. He was sustained an Assistant to the Twelve Oct. 6, 1972, and to the Presidency of the First Quorum of the Seventy Oct. 1, 1976. He was sustained to the Quorum of the Twelve Sept. 30, 1978, and ordained an apostle Oct. 1, 1978, at age 58. While serving as a General Authority, he was a managing director of the Melchizedek Priesthood Department, director of Welfare Services, zone adviser over South America and president of the International Mission.
President Faust has served as a regional representative, stake president, and bishop, and filled a mission in Brazil from 1939-42. He served in the Air Force during World War II. Afterward, he graduated from the University of Utah with a B.A. and juris doctorate in 1948. An attorney, he practiced law in Salt Lake City until being called as a General Authority.
James E. Faust is a former Utah state legislator and was appointed by President John F. Kennedy to the Lawyer's Committee for Civil Rights and Racial Unrest. He was adviser to the American Bar Journal, president of Utah Bar Association and was a member of the Utah State Constitutional Revision Commission. In 1995, he was given the Minuteman Award by the Utah National Guard, and in 1996, he was given the Distinguished Lawyer Emeritus Award by the Utah Bar Association. He was born July 31, 1920, in Delta, Utah, a son of George A. and Amy Finlinson Faust. He and his wife, Ruth Wright Faust, are parents of five children and have 22 grandchildren.