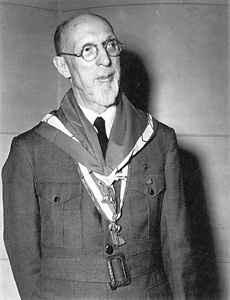 George Albert Smith was a strong supporter of Boy Scouting.
He was awarded the silver beaver and silver buffalo, two of scouting's highest honors.
Courtesy the Utah State Historical Society.
by S. George Ellsworth
George Albert Smith (1870-1951), the eighth president of the Church, was born April 4, 1870, in Salt Lake City, the son of John Henry Smith and Sarah Farr. His grandfather, George A. Smith, was an apostle and counselor to President Brigham Young, and his father, John Henry Smith, was an apostle and counselor to President Joseph F. Smith. His mother was a daughter of Lorin Farr, the pioneer founder and early mayor of Ogden, Utah. On May 25, 1892, George Albert Smith married Lucy Emily Woodruff, the daughter of Wilford Woodruff, Jr., and Emily Jane Smith. They had three children: Emily (Mrs. Robert M. Stewart), Edith (Mrs. George O. Elliott), and George Albert, Jr. George Albert Smith was ordained an apostle at thirty-three years of age on October 8, 1903, by President Joseph F. Smith.
In his youth he worked in the ZCMI factory and as a salesman, traveling by wagon throughout Utah. He attended Brigham Young Academy and the University of Deseret (later the University of Utah). When he was on a railroad surveying job in eastern Utah, the glare of the sun permanently impaired his eyesight. In 1896 he declared for the Republican party and campaigned for William McKinley, which won him appointment in 1897 as receiver for the Land Office in Utah, a position to which he was reappointed in 1902 by Theodore Roosevelt.
At the time of his call to the apostleship in 1903, George Albert Smith was president of the Young Men's Mutual Improvement Association (YMMIA; see Young Men) in the Salt Lake Stake, with some forty wards to supervise. In 1891 he had undertaken a short mission for the Church among the young people in Juab, Millard, Beaver, and Parowan stakes, and in June 1892, a week after his marriage, he was called to the Southern States Mission under President J. Golden Kimball. Elder Smith was soon appointed mission secretary. His wife joined him, and they served in the mission office until June 1894.
His call to the apostleship entailed continual weekly visiting to the established stakes of the Church, organizing new wards and stakes, and supervising the missions of the Church. His travels averaged 30,000 miles yearly, and his attendance at meetings averaged more than ten per week.
Under this pressure, his already frail health broke, and his life became a constant struggle against physical weakness. Through his remaining years he guarded his energies and rationed them to fulfill his responsibilities. His illness was diagnosed only at end of life as lupus erythematosus, a disease that produces chronic weakness.
President Smith was a master of the art of making friends. Wherever he went he especially cultivated the acquaintance and companionship of the leaders of the people. Whether it was the President of the United States or the Lord Mayor of London, he established a friendship. His friends were legion, throughout the Church and around the globe.
Some of his finest work was done with youth. Over a lifetime he served in every capacity in the YMMIA, and shortly after becoming an apostle, he was called to the YMMIA General Board, serving from 1904 to 1921. As general superintendent of that organization from 1921 to 1935, he was influential in setting policies, establishing programs, and directing youth activities throughout the Church.
President Smith gained international prominence as a scout. When scouting came to the United States in 1910, he recommended its incorporation into the YMMIA program, where it came under his leadership. Beginning in 1931, he served on the advisory board of the National Council of Boy Scouts of America. At this time Utah and the Church came to lead the world in the percentage of boys registered as scouts and explorers. In 1932 he was awarded the Silver Beaver, and in 1934, the Silver Buffalo, two of scouting's highest awards.
As president of the European Mission (see Mission President) from June 1919 to July 1921, he won the love and admiration of the missionaries and the Saints and made many friends for the Church. As World War I had just ended, a major task was to reestablish missionary work and help the Saints adjust. President Smith inaugurated friendly relations with governments and visited missionaries and Saints in Ireland, Scotland, France, Switzerland, Norway, Denmark, Sweden, and Germany. Between January and July 1938, he and Rufus K. Hardy of the First Council of the Seventy visited the missions of the Pacific Ocean area: Hawaii, the Fiji Islands, New Zealand, Australia, Tonga, and the Samoa Islands.
Throughout his life George Albert Smith maintained intense personal interests rooted in his pioneer family and Church heritage. He carried on his father's interest in irrigation, dry farming, and reclamation. Between 1913 and 1918 he attended the meetings of the International Irrigation Congress, the International Dry-farm Congress, and their successor, the International Farm Congress. At each of these congresses he was elected either a vice-president or president, increasing his friendships throughout the United States and Canada.
He had a keen interest in identifying and marking historic sites. He was at Sharon, Vermont, for the 1905 dedication of the monument noting the centennial anniversary of the birth of the Prophet Joseph Smith. In June 1907 he and others negotiated for the purchase of the Joseph Smith, Sr., farm in Manchester, New York. In 1937 he took the initiative in organizing the Utah Pioneer Trails and Landmarks Association, whose first purpose was to erect a monument at the mouth of Emigration Canyon to honor the arrival of the pioneers of 1847, a project realized in July 1947 with the "this is the place" monument. More than a hundred historic monuments and markers were erected by the association, from Nauvoo to Utah and throughout the West.
Proud of his American patriot ancestry, President Smith affiliated with the Sons of the American Revolution. He was active in the Utah chapter and was elected a trustee of the national society.
His appreciation for his Smith family heritage included cordial relations with his cousins, the descendants of Joseph Smith III, and with other leaders of the Reorganized Church of Jesus Christ of Latter Day Saints.
President George Albert Smith both taught and lived the two great commandments to "love the Lord thy God" and to "love thy neighbour as thyself" (Matt. 22:37-39). To him, all people were the children of God, and he could in no way hurt a child of God. "All the people of the earth are our Father's children,…regardless of race, creed, or color, all men are our brothers." He taught that "men cannot approach the likeness of God except by the practice of love to their fellow men. Only by love can peace and joy be made to cover the earth." Other recurring themes and aphorisms in his teachings include: "This is our Father's work." "Keep on the Lord's side of the line." "Seek ye first the Kingdom of God and his righteousness." "There is only one aristocracy that God recognizes, and that is the aristocracy of righteousness" (Papers, Box 96). He preached of honest work, thrift, self-reliance, good homes, education, and progress. He gave comfort and cheer, praise and encouragement, without offense and without guile. He was the apostle of kindness and love. There was no room in his heart for hatred, anger, envy, resentment, or fear. "To him have been given many of the qualities which can only be described as being Christlike" (John D. Giles, IE 48 [July 1945]:388).
President Smith exemplified these qualities in all aspects of his personal life. He measured his life by the yardstick of service and was happiest when assisting the poor, the widows, and the fatherless, or visiting the sick among his neighbors or in hospitals. He was always polite, gentlemanly, tactful, forgiving, and kind, a man of peace who cultivated goodwill among all people. He lifted the burdens from the shoulders of both friends and strangers, planted hope in the human heart, and restored confidence. He practiced the divine law of love.
Upon the death of Elder Rudger Clawson on June 21, 1943, George Albert Smith was selected president of the Quorum of the Twelve Apostles, which office he held for two years. When President Heber J. Grant died, George Albert Smith was sustained president of the church, May 21, 1945, at the age of seventy-five.
World War II ended that summer, and President Smith led a group to Washington, D.C., to facilitate the sending of Church Welfare goods to Church members in war-devastated Europe. During the weeks that followed, the Church shipped 133 railroad carloads of food, clothing, and bedding, along with thousands of individual eleven-pound packages.
During President Smith's administration, he asked Spencer W. Kimball, an apostle, to assist in supervising the Navajo-Zuni Indian Mission, and he himself headed a delegation to the nation's capital to initiate plans to help Native Americans.
Missionary work was revitalized throughout the world after cutbacks during World War II. New stakes and missions were organized. The number of missionaries rose to more than 5,000, and the number of wards and branches increased from 1,273 to 1,492, and stakes from 149 to 179. Some 200 new meetinghouses were built. New hospitals were constructed and old ones enlarged. Microfilming of vital records was accelerated so that by February 1950 a total of 24,579 microfilm records had been catalogued. On September 23, 1945, President Smith dedicated the Idaho Falls Temple.
President George Albert Smith died on April 4, 1951, on his eighty-first birthday, leaving as his chief legacy an example of Christlike living.
(See Daily Living home page; Church History home page; People in Church History home page)
Illustrations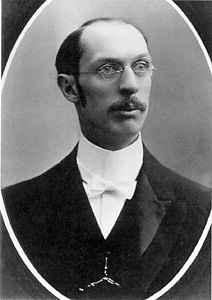 George Albert Smith (1870-1951), eighth President of the Church,
was ordained an apostle in 1903, at age 33.
Courtesy Utah State Historical Society.
Bibliography
Pusey, Merlo J. Builders of the Kingdom: George A. Smith, John Henry Smith, George Albert Smith, pp. 203-364. Provo, Utah, 1981.
Smith, George Albert. Papers, Folders 1-4, Box 96. Special Collections, University of Utah Library, Salt Lake City.
Stubbs, Glen R. "A Biography of George Albert Smith, 1870-1951." Ph.D. diss., Brigham Young University, 1974.
Encyclopedia of Mormonism
Copyright © 1992 by Macmillan Publishing Company