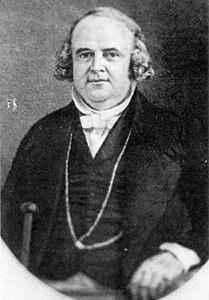 Willard Richards (1804-54), ordained an apostle in 1840, was one of Joseph Smith's secretaries. He was appointed a Church historian in 1842 and general Church recorder in 1845. Engraving, c. 1853.
by Howard C. Searle
From its beginnings, the Church has considered record keeping and history writing an imperative duty (D&C 123:1-7). The Book of Mormon, published in 1830, is a product of ancient records kept by command of God (1 Ne. 9:3, 5; Jacob 1:2; 3 Ne. 23:4, 11-13). Record keeping is also commanded by modern revelation (D&C 21:1; 47:3; 69:3; 72:5-6). Latter-day Saints write history not only to obey divine injunctions but also to combat false reports and to convert and edify future generations (HC 1:1; 2:199; 6:409).
Although most of the early commandments pertained to the keeping of "official" Church records, Latter-day Saints also apply them to individuals. Joseph Smith and other prominent leaders set the example by keeping journals. Clerks and scribes recorded revelations, minutes of meetings, speeches, correspondence, blessings, and ordinances.
EARLY CHURCH HISTORIANS, 1830-1842. Record keeping and history writing were institutionalized with the appointment of Oliver Cowdery as the first Church Recorder when the Church was organized on April 6, 1830 (D&C 21:1). That the Prophet's closest associate and most capable scribe, who also served as second elder in the Church, should be called as Church Recorder is an indication of the importance attached to the position. According to his successor, Cowdery wrote the History of the Church up to mid-1831, when he was released; that early history has never been located. During his second term in office (1835-1837), Cowdery completed a series of eight historical letters that he had started publishing in the messenger and advocate in October 1834.
John Whitmer, one of the eight Book of Mormon Witnesses, served officially as Church recorder between 1831 and 1834 and, after his release, wrote unofficially until his excommunication in 1838. His history for 1831-1838 was published in 1908.
George W. Robinson, a son-in-law of Sidney Rigdon, became general recorder in 1837 (HC 2:513). He accompanied Joseph Smith in visiting Church settlements in northern Missouri and kept a brief record captioned "The Scriptory Book of Joseph Smith, Jr." Robinson was released in 1840 when he moved across the river from Nauvoo.
From 1838 to 1843 there was considerable overlapping in the service of Church recorders and historians. Little progress had been made on the Church annals, which, in part, were being written to help combat highly visible anti-Mormon publications. In a flurry of activity to correct the situation, Joseph Smith had earlier minutes copied into the Far West Record, renewed efforts on his own history with the assistance of Sidney Rigdon, and called John Corrill and Elias Higbee as Church historians to work with Robinson.
Soon after his appointment, John Corrill chafed at criticism by the Prophet and chose to testify against his former associates in several legal proceedings, leading to his excommunication. To justify his break with the Church, he quickly wrote and published in 1839 the history that he never wrote as Church historian.
As a Church historian, Elias Higbee helped collect affidavits regarding the Saints' losses in Missouri, and in October 1839 he accompanied Joseph Smith and Sidney Rigdon to Washington, D.C., to present them to U.S. officials. After President Van Buren rebuffed them in February 1840, Higbee stayed on, trying unsuccessfully for a hearing before the Senate Judiciary Committee. His documents relating to this Washington mission, later incorporated in the "History of Joseph Smith," were his main contribution to Church history.
In 1840, twenty-eight-year-old Robert B. Thompson replaced Robinson as Church historian, but he had little time for history. He wrote in Joseph Smith's letter book, recorded patriarchal blessings, and served as city treasurer, clerk of the high council, and associate editor of the times and seasons. After Thompson died in 1841, James Sloan, an experienced clerk, served as historian, but within a year he was called on a mission to his native Ireland.
PIONEER CHURCH HISTORIANS, 1842-1900. After fluctuating changes in titles and personnel, the offices of Church recorder and Church historian merged and became stable with the appointment of Willard Richards in late 1842. He came to his literary duties singularly qualified and immediately brought new impetus and dignity to the position. Richards kept the Prophet's diary for him, wrote correspondence, compiled most of the "History of Joseph Smith" (see History of the Church), and either recorded or supervised the recording of the Prophet's sermons, minutes of meetings, and ordinances performed in the Nauvoo Temple.
Richards's efforts provided continuity during the unsettled years of pioneer travel. With the help of his assistant, Thomas Bullock, he packed Church records in sturdy boxes for removal to the West. At Winter Quarters he set up a temporary Church Historian's Office in an octagonal cabin that also served as Church headquarters. In Utah he maintained the Historian's Office in his own home in Salt Lake City until his death on March 11, 1854.
No one seemed more qualified to complete the "History of Joseph Smith" than Joseph Smith's cousin George A. Smith, who was appointed as Church historian and general Church recorder on April 7, 1854. He had a modest building constructed across the street from Brigham Young's office that served as the Historian's Office from 1856 to 1917. His main contributions were completing the "History of Joseph Smith" and directing the compilation of the "History of Brigham Young."
Albert Carrington, a graduate of Dartmouth College, Brigham Young's secretary, and editor of the Deseret News, was ordained an apostle and appointed historian in 1870. During Carrington's four-year term, work continued on the Manuscript History of Brigham Young. Orson Pratt, an apostle, was sixty-three years old when he was appointed Church historian in 1874 and never involved himself personally in writing Church history. He died in 1881.
Although Wilford Woodruff (1833-1898) served as Church historian from 1883 to 1889, he made his greatest contributions to Church history as assistant Church historian from 1856 to 1883. He was the prime motivator behind a project to publish a biography of each man who had served in the Quorum of the Twelve Apostles, and was instrumental in preparing the sermons of Joseph Smith for publication in the History of the Church. Woodruff's journals, which he kept with diligence from the time he joined the Church until a few weeks before his death, proved invaluable in compiling the histories of Joseph Smith and Brigham Young.
Franklin D. Richards, an apostle, served as an assistant Church historian for five years before becoming Church historian in 1889. He traveled to San Francisco to provide information for Hubert H. Bancroft, who was then preparing his histories of western states and territories. The resulting History of Utah (1890) was considered the most balanced and scholarly account of Church pioneer history to that time. Elder Richards energetically collected historical sources and authorized his assistant, Andrew Jenson, to travel extensively to gather materials. On his own initiative, Jenson had already undertaken historical projects beneficial to the Church before he was sustained as an assistant Church historian in 1897.
EARLY-TWENTIETH-CENTURY CHURCH HISTORIANS. Anthon H. Lund served from 1900 to 1921. An able and considerate administrator, he supervised significant projects, including moving the office and records in 1917 to the new Church Office Building. Andrew Jenson continued traveling to stakes and missions, gathering materials to compile a "manuscript history" of each; he also published thousands of biographical sketches. In 1906, when he was assigned responsibility for the "Journal History," Jenson began a retroactive compilation of sources in the form of annals extending back to 1830, a history that by 1932 had grown to 518 volumes. He also continued work on several private historical projects until his death in 1941.
Elder B. H. Roberts of the Seventy established himself as a historian with the publication of The Life of John Taylor (1892), Outlines of Ecclesiastical History (1893), The Missouri Persecutions (1900), and The Rise and Fall of Nauvoo (1900). In 1902 he was appointed assistant Church historian and assigned to edit and republish the History of the Church. He had completed six volumes by 1912, and a seventh in 1932, about a year before his death. While editing the History of the Church, Roberts also wrote "A History of the Mormon Church," which first appeared in monthly installments in the Americana magazine, 1909-1915. Later revised, these were published in 1930 as Roberts' comprehensive History of the Church.
Joseph Fielding Smith began a sixty-nine-year association with the Historian's Office in 1901, when he was employed as an assistant to Andrew Jenson. As an assistant Church historian (1906-1921), he wrote several historical pamphlets and booklets, and as Church historian (1921-1970), he continued writing. His Essentials in Church History (1922) remained a standard until the 1980s. His two-volume Church History and Modern Revelation (1953) provided explanations about the antecedents and historical setting of many revelations published in the Doctrine and Covenants. An apologist in the classical tradition, Elder Smith's philosophy of history has been widely influential within the Church.
RECENT CHURCH HISTORIANS. Joseph Fielding Smith worked to modernize operations of the Historian's Office. He improved standards for preserving, classifying, and managing archival materials; hired professional librarians and archivists; and helped plan a new four-story facility. As President of the Church, he appointed Elder Howard W. Hunter, an apostle, as Church historian (1970-1972). After consulting with professional historians and archivists, in 1972 Elder Hunter recommended a reorganization of the Historian's Office into a Historical Department with three divisions: a library for published materials, archives for manuscripts, and a division for research and writing.
Since Willard Richards, each Church historian and general Church recorder had been a member of the Quorum of the Twelve or First Presidency. That long-standing tradition was changed in 1972 when Leonard J. Arrington, a nationally prominent professional historian, was sustained in general conference as Church historian (1972-1977). His duties were also different from those of his predecessors: His main task was to produce scholarly works for publication. Earl E. Olson, Church archivist, was charged with gathering and preserving the materials of history; Donald T. Schmidt became librarian; and later Florence Jacobson headed an Arts and Sites Division. They all served under Managing Director Alvin R. Dyer, an Assistant to the Twelve. The Historical Department moved to enlarged quarters in November 1972. On May 17, 1976, Joseph Anderson, an Assistant to the Twelve, succeeded Elder Dyer as managing director.
With a corps of professional historians, Arrington promoted and directed the writing and publication of LDS history at an unprecedented rate. The division also assisted with acquisitions and conducted a dynamic oral history program.
The appointment of G. Homer Durham of the First Quorum of the Seventy as Managing Director in 1977 signaled a retrenchment in the Church's direct sponsorship of professional history writing. Several history writing projects were curtailed or abandoned. On June 26, 1980, the Church announced the establishment of the Joseph Fielding Smith Institute for Church History, which would be affiliated with Brigham Young University. Arrington directed the new institute, and most of the professional historians associated with him transferred to the university. This placed the writing of history in a university setting, leaving the Historical Department to manage materials in its archives in support of scholarship without the responsibility of monitoring a genre of "official" Church history.
Elder G. Homer Durham was appointed as Church historian on February 8, 1982. During his administration Florence Jacobsen became a prime motivator in the establishment of a new museum of Church History and Art, which opened its doors in April 1984. The three divisions in the Historical Department were now the Archives, Library, and Museum. Following Durham, Elder Dean L. Larsen, of the Presidency of the Seventy, was sustained as Church historian and recorder (1985-1989). In 1989 John K. Carmack of the First Quorum of the Seventy, who had been serving under Elder Larsen since 1986, became the department's executive director.
(See Daily Living home page; Church History home page; People in Church History home page)
Bibliography
Bitton, Davis, and Leonard Arrington. Mormons and Their Historians. Salt Lake City, 1988.
Jenson, Andrew. L.D.S. Biographical Encyclopedia, 4 vols. Salt Lake City, 1901-1936.
Searle, Howard C. "Early Mormon Historiography." Ph.D. diss., University of California at Los Angeles, 1979.
Encyclopedia of Mormonism, Vol. 2, Historians, Church
Copyright © 1992 by Macmillan Publishing Company