Deseret Industries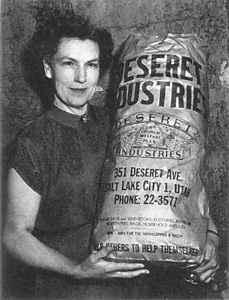 This donation bag from the 1940s features the beehive, symbol of industry for the Church Welfare plan, as well as one of the stated goals of the Desert Industries; "Help others to help themselves." Photographer: Holger Marius Larsen.
by Michael C. Cannon
Toward the end of the Great Depression, in August 1938, Deseret Industries was established "to help Church members help themselves" through a program of donated household items, volunteer labor, and vocational training.
In a letter to LDS congregations in Utah's Salt Lake Valley dated August 11, 1938, the First Presidency and Presiding Bishopric called for "contributions of clothing, papers, magazines, articles of furniture, electrical fixtures, metal and glassware" from each household. The letter explained that the project would be known as Deseret Industries, and that the organization would make "periodic collections of these materials from homes…and employ men and women to sort, process, and repair the articles collected for sale and distribution among those who desire to obtain usable articles…at a minimum cost."
Since then, goods have been sold at thrift stores bearing the Deseret Industries name. Local Church congregations continue donation drives, during which volunteer workers collect goods from the homes of members. Anyone can donate items at any Deseret Industries store as well.
The Deseret Industries program was implemented specifically for the benefit of members who could not obtain employment elsewhere, and its initial work force consisted primarily of the unemployed and elderly. It was operated under the umbrella of the Church Security Plan—now Church Welfare services—and continues as an integral part of the Church Welfare system. Church leaders use Deseret Industries not only for employment training but as a resource for clothing and household items for needy members.
There were more than a dozen Deseret Industries stores in Salt Lake County and five in the Los Angeles area before World War II. Most of those were closed during the war, and operations were consolidated. By 1948 there were six stores, and growth continued slowly but steadily into the 1950s.
Deseret Industries started a rug-making operation in 1954 and acquired a woolen mill in 1957. The plants not only provided additional jobs but also goods to be distributed to needy Church members through the Welfare program. Many elderly and handicapped members found work at Deseret Industries, and those who were sufficiently able were trained and moved into private industry.
As the program moved through the 1960s and into the 1970s, the emphasis on rehabilitation increased. Preparing people to enter the private workplace became a forte of Deseret Industries. Stores and equipment were upgraded through the mid-1970s and early 1980s to compare favorably with any of their kind.
Deseret Industries outlets have followed large concentrations of Church members. At the beginning of the 1990s there were forty-six Deseret Industries retail stores in cities of the western United States.
The Deseret Industries program still focuses on those with disabilities and those who have other social, employment, and economic challenges and obstacles to overcome. An estimated 60-70 percent of the people in the program are somewhat limited physically, mentally, emotionally, or socially. In 1980, Deseret Industries placed about 240 people into jobs with private companies. In 1989, it placed more than 700.
People needing training are usually referred to Deseret Industries by a Church leader. A program for each person is written with the individual's supervisors and rehabilitation workers. It incorporates personal and work-related goals and is closely monitored. Local Church members sometimes receive callings to help with training and rehabilitation.
Most Deseret Industries programs are more closely related to work adjustment than to skills training. Trainees get the experience of entering the workplace every day, being on time, learning to get along with coworkers, and taking directions from supervisors. Deseret Industries is not set up to train people to be journeymen plumbers or electricians, for example, though people may get experience doing these types of things.
Employment or career development is one of six standards of personal and family emergency preparedness outlined by the Church, the others being literacy and education, financial and resource management, home production and storage, physical health, and social-emotional and spiritual strength.
The mission of Deseret Industries parallels the mission of Church Welfare Services. A 1936 statement by the Church's First Presidency explains the philosophy of the Welfare program:
Our primary purpose was to set up, in so far as it might be possible, a system under which the curse of idleness would be done away with, the evils of a dole abolished, and independence, industry, thrift and self-respect be once more established amongst our people. The aim of the Church is to help the people help themselves. Work is to be re-enthroned as the ruling principle of the lives of our Church membership [CR, Oct. 1936].
Bibliography
Searle, Don. "Deseret Industries at 50." Ensign 18 (July 1988):32-37.
Cannon, Michael. "Deseret Industries Commemorates 50 Years." Church News, Aug. 13, 1988, pp. 8-9, 12.
Lloyd, R. Scott. "Finding Dignity Through Work." Church News, Sept. 23, 1989, pp. 8-9.