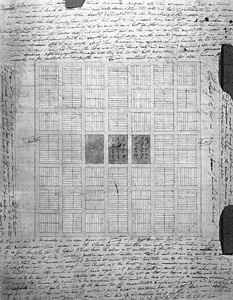 The original plat of Independence, Missouri, on paper. Designed by Joseph Smith, 1833. Using variations of this pattern, each town that was established by the Latter-day Saints was laid out in rectangular plots of land in town blocks allotted for residences and farms.
by Richard H. Jackson
For Latter-day Saints, city planning began with the Prophet Joseph Smith, who emphasized the advantages of living in compact communities rather than on isolated farms. Many of his ideas were adopted in modified form in LDS settlements in Missouri, Illinois, and the Great Basin of the American West. These communities always provided opportunities for education, cooperation, fine arts, and worship.
Joseph Smith's ideas about city planning are contained in a document known as the City of Zion plan, which he prepared in 1833. The characteristics of this Zion plan include a regular grid pattern with square blocks, wide streets (132 feet), alternating half-acre lots so that houses face alternate streets on each block, uniform brick or stone construction, homes set back 25 feet from the street, frontyard landscaping, gardens in the backyard, the location of farms outside of town, and the designation of central blocks as a site for temples, schools, and other public buildings.
Though Joseph Smith did not identify the sources behind the plan, perhaps he was influenced by the biblical pattern of Moses arranging the tribes around the tabernacle (Num. 2), as well as by towns in his own experience. Clearly his goal was to design communities that enhanced the cooperation and religious unity envisioned in the revelations about Zion.
LDS portions of Kirtland, Ohio, which was surveyed shortly after this plan was presented, followed it closely. Other cities influenced by Joseph Smith were somewhat different. The Saints at Far West, Missouri (1833-1839), surveyed their city into square blocks of four acres with only four one-acre lots on each. Four 132-feet-wide streets bounded a central square, but other streets were narrower. Nauvoo, Illinois (1839-1846), was similar to Far West, but only the two main streets were wider than 50 feet.
Immediately after the pioneers arrived in the Salt Lake Valley in 1847, President Brigham Young issued instructions for establishing Salt Lake City. His plan reflected elements of the City of Zion plan, with blocks the same size, but instead of twenty half-acre lots in each block, each contained eight lots, 1.25 acres in size. As in Joseph Smith's plan, all streets were 132 feet wide and the houses on each block faced alternate streets, with each set 20 feet back from the sidewalk. The most important difference was that the lots were much larger. Each city lot became a minifarm with animals, barns, and gardens. The rapid influx of settlers into Salt Lake City led to the early subdivision of the large lots.
Other settlements (see Colonization) followed the same general pattern as Salt Lake City, but the actual lot, block, and street sizes varied from community to community. While most communities adhered to the rigid grid pattern oriented to the cardinal directions, street widths ranged from 66 to 172 feet, block sizes from four to ten acres, and lot sizes from one-half to more than one acre. Though differing in details, Mormon towns were characterized by large lots, wide streets, and large blocks, features that still distinguish these communities of America's intermountain West. This expansive pattern later enhanced urbanization, providing space for four lanes of traffic and for large-scale downtown development.
The emphasis on large scale has also created a distinctive landscape in the small Mormon agricultural communities of the intermountain West. Typically, the wide streets have only a narrow two-lane strip of pavement, flanked by twenty- to thirty-foot unimproved shoulders of weeds or gravel. Most residents of these villages use the large lots only for small gardens; barns, corrals, and outbuildings of the nineteenth century often remain as landscape relics. Where population growth has led to subdivision of the street frontage of the large lots, the center of the blocks has often remained open. The interior of these large blocks may be devoted to household gardens or simply allowed to remain vacant until land prices justify higher density apartment buildings or other uses for the space.
City planning in the Mormon culture region incorporates the experiences of the Mormons in their migration across the American frontier. Joseph Smith's plan combined his New England village background with the rectangular blocks and lots typical of Philadelphia. Brigham Young adopted this rectangular pattern and added to it an emphasis on subsistence agriculture, which led to large blocks and lots for minifarms within the community. Joseph Smith's requirement to build of brick or stone was paralleled by Brigham Young's encouragement to build of adobe (unfired clay bricks). Old Mormon villages are currently dominated by adobe, brick, and stone homes, and even the modern suburbs in Mormon communities have a high concentration of brick construction. The large scale of both Joseph Smith's and Brigham Young's visions of the ideal city and the emphasis on uniform setback, landscaping, and brick or stone construction combine to make the Mormon village a distinctive pattern of city planning in America.
(See Basic Beliefs home page; Church Organization and Priesthood Authority home page; The Worldwide Church home page; Gathering and Colonization home page)
Bibliography
Jackson, Richard H. "The Mormon Village: Genesis and Antecedents of the City of Zion Plan." BYU Studies 17 (Winter 1977):223-40.
Nelson, Lowry. The Mormon Village: A Pattern and Techniques of Land Settlement. Salt Lake City, 1954.
Ricks, Joel Edward. Forms and Methods of Early Mormon Settlement in Utah and Surrounding Regions, 1847-1877. Logan, Utah, 1964.
Encyclopedia of Mormonism, Vol. 1, City Planning
Copyright © 1992 by Macmillan Publishing Company