Pioneer Settlements in Canada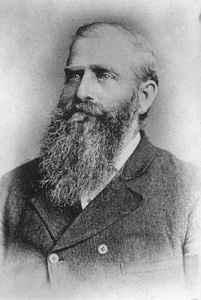 Charles O. Card (1839-1906), a pioneer leader who helped establish the first permanent LDS settlements in Canada, became president of the Alberta Stake in 1895, the first LDS stake outside the present boundaries of the United States.
by Howard Palmer
LDS experience in Canada provides an important comparison to the study of the Church in the United States. Though the Church settlements of southern Alberta, begun in the late nineteenth century, were an extension of the LDS cultural region in the Great Basin, they gradually developed a unique character because they lay at the frontier intersection of two commonwealths, the Canadian and the Mormon—and as a hinterland of each. Constantly influenced by the exchange of people, ideas, and culture with the Great Basin, LDS settlements in Alberta contributed to the Church several General Authorities, including Hugh B. Brown and N. Eldon Tanner, both of whom served in the First Presidency.
Since most early Church converts from eastern Canada in the 1830s and 1840s soon joined the Saints in the United States (see Gathering), the LDS presence in Canada was fleeting until the late 1880s. The first permanent Church settlements in Canada were built in Alberta by Latter-day Saints from Utah seeking refuge from persecution that followed increasingly harsh antipolygamy legislation. Led by Charles Ora Card, they established farms in 1887 around present-day Cardston.
Card, a prominent community and Church leader in Cache Valley, Utah, had been arrested in July 1886 for practicing polygamy. After escaping from custody, he visited Church President John Taylor, a British-born resident of Canada at the time of his conversion, who directed Card to go to Canada to seek "British justice." President Taylor's son, John W., an apostle, entrepreneur, and visionary, joined Card in leading the early development of Canadian LDS settlements.
In the fall of 1886, Card and two companions selected southwestern Alberta—a region with good land, water for irrigation, accessible timber and coal, and close to the Blood Indian reservation—where they hoped to proselytize. Cardston was established on April 26, 1887, and the Cardston ward of the Cache stake was organized in 1888. By 1891 there were 359 Saints in the area.
Influenced by prolonged conflict between the U.S. government and the Mormons, the press and politicians elsewhere in Canada opposed LDS settlement. But local boosters and Canadian government officials welcomed the arrival of farmers skilled in irrigation in an area known for its aridity. However, official opposition to polygamy was clear. When, in November 1888, Church leaders sought permission to bring existing plural families to Canada, the government quickly outlawed polygamy. Most opposition to the Church in Canada declined after the 1890 manifesto announced the official end of plural marriage.
Previous experience helped the new settlers meet the challenges of pioneering in Canada. The Cardston Company, a joint-stock venture, mobilized capital for community projects, including a flour mill, cheese factory, steam threshing outfit, sawmill, and other enterprises. Some of the capital came from Card's wife, Zina, a daughter of Brigham Young, who was a former college professor, and a suffragette who served as a role model for other Canadian LDS women. The economic success of the Saints broke down barriers that separated them from local society. A series of drought years in the early 1890s showed the necessity of irrigation and highlighted LDS achievements with small-scale irrigation projects.
Beginning in the late 1890s, a second wave of LDS immigrants came primarily for economic reasons. The Galt coal mining interests in Lethbridge, hoping irrigation would allow them to sell sizable tracts of land to agricultural interests, formed a partnership with Card, who saw the potential for a major colonization program for LDS farmers from the United States. The 1898 contract between the Galt Company and the Church attracted LDS subcontractors, laborers, and teamsters to Alberta to build an irrigation system. Most were farmers intent on settling. By 1900 the canal was completed, and Lord Minto, the Canadian governor general, and George Q. Cannon and Joseph F. Smith of the First Presidency attended the opening.
These new LDS settlers founded several new towns, including Magrath and Stirling. During the late 1890s and early 1900s, population growth in the Cardston area and a continuing influx from the United States prompted Latter-day Saints to settle in Beazer, Kimball, Leavitt, Taylorville, Woolford, Jefferson, and Del Bonita.
A new surge of settlement began in 1902-1903 when wealthy Utah mine owner Jesse Knight established a sugar factory in Raymond. Latter-day Saints played a key role both as growers and as managers of the sugar company in establishing the sugar beet industry, which remains an important part of southern Alberta's economy.
In 1906, E. J. Wood, successor to Charles O. Card as president of the Alberta Stake, bought a large ranch, opening 35,000 acres to colonization and laying out the towns of Glenwood (1908) and Hillspring (1910). Church settlements also developed outside the southwest Alberta core area, at Barnwell, Taber, Orton, and Frankburg. Irrigation, the village settlement pattern (see City Planning), cooperative economic enterprise, and an active cultural, social, and religious life were transferred from the American Great Basin to southern Alberta. By 1911 Latter-day Saints had established eighteen new communities in southern Alberta, and 10,000 Saints, mostly farmers and their families, lived in the area of southwest Alberta alone.
With the outbreak of World War I, many young Canadian Latter-day Saints showed their loyalty to their homeland by joining the Canadian armed forces. Before the war, in order to offset questions about their patriotism, Church leaders had asked several young men, including Hugh B. Brown, to take officer training and to recruit others. By 1915 more than 200 LDS youth from the Cardston area had been recruited.
Pioneering, wartime nationalism, and the passage of time all contributed to the growing identification of Latter-day Saints with Alberta and Canada. This identity was solidified with the dedication of the temple in Cardston in 1923 by President Heber J. Grant. A new Alberta-born and educated LDS generation emerged in small towns full of vitality. Cars, roads, and the telephone broke down rural isolation. Amateur sports, music, drama, school fairs, picnics, and rodeos reached their zenith. Alberta Latter-day Saints came into increasing contact with a wide variety of other ethnic and religious groups, including the communal Hutterites and Japanese and eastern Europeans, brought in to labor in the sugar industry.
Intense sports rivalries between the neighboring towns cemented hometown loyalties. The small LDS communities in southern Alberta dominated men's basketball in the province for decades and served as training grounds for several provincial and national basketball championship teams.
While they had an active cultural life, LDS towns did not thrive financially in an era of agricultural boom and bust. Magrath and Raymond grew quickly after their founding: by 1906 Magrath had a population of 884 and Raymond a population of 1,568. But with limited agricultural hinterlands, their growth quickly leveled off, and they grew little after 1911. Both towns developed a small industrial base that lasted until the 1960s: Raymond with its sugar factory and Magrath with a woolen mill and canning factory. With a bigger agricultural hinterland and the temple, Cardston remained the largest predominantly LDS town. Its population grew gradually from 1,000 in 1906 to about 2,000 by the 1920s.
During the 1920s many of the Canadian-born generation began looking for other opportunities. Some left for urban areas in Alberta or elsewhere in Canada, or for the United States. Church growth in other parts of Canada has often depended on leadership provided by Latter-day Saints who had pioneer roots in southern Alberta but migrated elsewhere.
Hard hit by the Great Depression of the 1930s, many Latter-day Saints rallied to the Social Credit party, which swept into power in Alberta in 1935 and retained power until 1971. Several LDS community leaders supported the monetary-reform movement, including Cardston high school principal N. Eldon Tanner, a cabinet minister from the late 1930s until the early 1950s, and schoolteachers John Blackmore and Solon Low, who both became national leaders of the party. Several other Church members were elected to the provincial legislature. The three largest cities in Alberta have each elected LDS mayors.
Since 1947 immense oil and gas discoveries have transformed Alberta. With oil-induced prosperity and farm mechanization, many Latter-day Saints moved to the cities, gradually making them the focal point of LDS life. Eventually Latter-day Saints in Calgary numbered more than in all the other Mormon towns of southern Alberta. From a tight-knit, rural, geographically compact group consisting mostly of farmers, Latter-day Saints in Canada have become increasingly urban, middle class, and geographically dispersed. Those in Alberta, however, retain their strong cultural, religious, and kinship links with American Latter-day Saints while serving as full-fledged members of Canadian society.
(See Basic Beliefs home page; Church Organization and Priesthood Authority home page; The Worldwide Church home page; The Church in Canada)
Bibliography
Card, Brigham Y., et al., eds. The Mormon Presence in Canada. Edmonton and Logan, 1989.
Lethbridge Stake Historical Committee and Melvin S. Tagg. A History of the Mormon Church in Canada. Lethbridge, Alberta, 1968.
Encyclopedia of Mormonism, Vol. 1, Canada, Pioneer Settlements in
Copyright © 1992 by Macmillan Publishing Company