Pioneer Settlements in California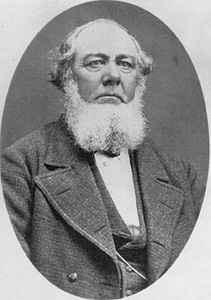 Charles C. Rich (1809-1883), member of the Quorum of the Twelve, one of many Latter-day Saints in California between 1845 and 1857. In 1851, Rich and Amasa M. Lyman were called to establish a self-sustaining unit of the Church in San Bernardino, California. Land was purchased, the town laid out, and schools and mills established. In 1857, the settlers were recalled to Salt Lake City. Rich, who later settled Bear Lake Valley on the Utah-Idaho border, was known for his goodness, generosity, and physical strength. Photograph, c. 1880, Charles W. Carter.
by Ted J. Warner
Spaniards founded missions, presidios, pueblos, and ranchos in California seventy-seven years before the arrival of the Mormons, but Latter-day Saints were among the first Anglo-Americans to establish settlements there. Brigham Young believed that a seaport on the West Coast was essential to the landlocked community in Utah. He may have thought early of San Francisco as a Mormon seaport, and the ports of San Diego and San Pedro (Los Angeles area) ultimately were included within the boundaries of the proposed state of Deseret (see Deseret, State of).
The first Latter-day Saint settlers in California located at Yerba Buena, a port connected with the mission and presidio San Francisco de As ís. By 1845 the mission, founded in 1776, had fewer than one hundred people living in the area. After Elder Sam Brannan and 238 Saints arrived there on the ship Brooklyn on July 31, 1846, Latter-day Saints for a time predominated in Yerba Buena. About twelve families of the Brooklyn Saints founded the first Mormon colony in California, the short-lived agricultural community of New Hope (1846-1848), on the Stanislaus River in central California. Another of the Brooklyn Saints, John M. Horner, became a wealthy farmer at the southern end of San Francisco Bay. He helped found eight towns in the area and made substantial financial contributions to the Church's missionary work in the 1850s.
Recognizing the rich potential of California, Brannan journeyed east to meet Brigham Young, then traveling west with the original pioneers of 1847. At their meeting on the Green River in western Wyoming, Brannan tried to persuade Brigham Young to continue on to California rather than stop in the Great Basin. Failing in this effort, Brannan returned to Yerba Buena, where he headed a prosperous LDS community until the gold rush of 1848-1849 and internal difficulties led to its dissolution. In 1847 Yerba Buena was renamed San Francisco.
Some 340 men of the Mormon Battalion reached southern California in January 1847. Though they arrived shortly after the California War for Independence, or Bear Flag Revolt, ended, battalion veterans nevertheless had a significant impact on California history. When the battalion came to San Diego, their one-year enlistment was nearly completed. Eighty-one men reenlisted (about fifteen of whom left California on another assignment), and the rest (about 245) were discharged. Though some immediately joined their families in the Salt Lake Valley, others remained in California to obtain funds before traveling to Utah. Some worked in the San Diego and Los Angeles areas, while others moved north to seek employment in San Francisco or at Sutter's Fort, on the American River near present-day Sacramento.
Six recently discharged members of the battalion were at Sutter's Mill when the initial discovery of gold was made on January 24, 1848. Indeed, it is the journal of Mormon Battalion veteran Henry W. Bigler that historians use to set the date for the initial discovery of gold in California. Other battalion veterans were involved in the early 1848 search for gold, and one particularly rich region was called "Mormon Diggings." Probably the most successful Mormon gold miner was Thomas Rhoads, who had taken his large family overland from Missouri to California in 1846. Some of the Mormon miners took an estimated $25,000-$30,000 in gold to Salt Lake City, providing a substantial boost to the infant economy. Brigham Young called a limited number of Latter-day Saints on missions to mine gold in California in 1849 and 1850. Others who were disillusioned with the Great Basin or infected with "gold fever" gravitated to California against his advice.
In 1851, under the direction of Charles C. Rich, an apostle, 437 colonists from Utah were sent to found a settlement near the Cajon Pass. The result was San Bernardino, the principal LDS settlement in California along the "Mormon Corridor" connecting Utah settlements and the West Coast. It was intended to be a gathering place for immigrants from the Pacific as well as a way station to assist LDS immigration via the Pacific. Latter-day Saints from the gold fields also gathered there. By 1856 about 3,000 settlers lived in San Bernardino, but the colony was plagued by dissension. In 1857, as the U.S. Army approached Utah (see Utah Expedition), Brigham Young instructed the San Bernardino Saints, along with other outlying settlers, to return to Utah. Only a little more than half complied, and many of those who remained drifted from the Church. After the 1857 evacuation, as before, California attracted some Latter-day Saints who were dissatisfied with Brigham Young's relatively authoritarian style of leadership, or with the practice of polygamy, or with the Great Basin itself.
After its official withdrawal from California in 1857-1858, the Church sponsored no further colonization in the state. Latter-day Saints subsequently moved to California as individuals rather than at the request of the Church. Many migrated there in the 1920s during the southern California land promotion boom. Thousands moved there during World War II for employment opportunities in war industries such as shipping and aircraft. Today California has perhaps the greatest density of Latter-day Saints outside the states of Utah and Idaho. Two LDS temples are located there, in Los Angeles and Oakland, with another under construction in San Diego in 1990.
(See Basic Beliefs home page; Church Organization and Priesthood Authority home page; The Worldwide Church home page)
Bibliography
Arrington, Leonard J. Great Basin Kingdom. Cambridge, Mass., 1958.
Arrington, Leonard J. Charles C. Rich: Mormon General and Western Frontiersman, pp. 137-213. Provo, Utah, 1974.
Bailey, Paul. Sam Brannan and the California Mormons. Los Angeles, 1943.
Campbell, Eugene E. "The Mormon Gold Mining Mission of 1849." BYU Studies 1-2 (Autumn 1959-Winter 1960):19-31.
Campbell, Eugene E. "Brigham Young's Outer Cordon: A Reappraisal." Utah Historical Quarterly 41 (Summer 1973):221-53.
Davies, J. Kenneth. Mormon Gold: The Story of California's Mormon Argonauts. Salt Lake City, 1984.
Hunter, Milton R. Brigham Young the Colonizer. Salt Lake City, 1940.
Orton, Chad M. More Faith Than Fear: The Los Angeles Stake Story. Salt Lake City, 1987.
Encyclopedia of Mormonism, Vol. 1, California, Pioneer Settlements in
Copyright © 1992 by Macmillan Publishing Company