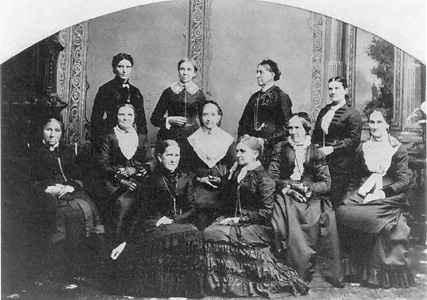 Deseret Hospital Board of Directors. Top row: Ellis Shipp, MD; Bathsheba Smith; Elizabeth Howard; Romania B. Pratt Penrose, MD. Second row: Phebe Woodruff; Mary Isabella Horne; Eliza R. Snow; Zina D. H. Young; Marinda N. Hyde. Bottom row: Jane S. Richards; Emmeline B. Wells. Courtesy the Utah State Historical Society.
by Scott Parker
With increasing evidence that home care of the sick and injured was no longer adequate, the women of the Relief Society, with the support of the First Presidency, opened Deseret Hospital in Salt Lake City on July 17, 1882. Though Roman Catholics and Episcopalians already sponsored hospitals in Utah, this was the first official endorsement of allopathic medicine by The Church of Jesus Christ of Latter-day Saints (see Medical Practices). A desire to have a place where spiritual ministrations could accompany medical treatment (see Sick, Blessing the) was among the motivations for the institution, and staff members were blessed and set apart by Church leaders for their tasks. The hospital also specialized in obstetrics, both in providing care and in training midwives and others.
Deseret Hospital was originally located in downtown Salt Lake City in a building vacated when the Catholics moved their hospital to larger quarters. In July 1884, Deseret Hospital moved to a larger building that could accommodate forty to fifty patients, though it seldom had more than sixteen at a time.
Deseret Hospital featured a homelike atmosphere, the latest surgical equipment from New York, and a staff of dedicated, well-trained, mostly female physicians, including Ellen B. Ferguson, Ellis R. Shipp, and Romania B. Pratt. Long before its doors opened, the women of the Church, led by Eliza R. Snow, raised funds for the hospital. Though these efforts continued, support was never adequate to pay for the treatment of the many "free" patients, and the hospital was forced to close in 1894. The hospital kept its nursing and midwifery schools operating until the opening of the Groves Latter-day Saints Hospital in 1905 (see Hospitals).
(See Daily Living home page; Attitudes Toward Health, Medicine, and Fitness home page)
Bibliography
Arrington, Leonard J. "The Economic Role of Pioneer Mormon Women." Western Humanities Review 9 (Spring 1955):161-63.
Noall, Claire Wilcox. "Utah's Pioneer Women Doctors: The Story of the Deseret Hospital." IE 42 (May 1939):274-75, 308-309.